The Third "Discover Yourself- Train the Trainers" residential workshop was held in the out skirts of Bengaluru in a green environment (WRAC resort), from 10-17, July 2016.
Around ten participants were selected from across the country.
Some of the participants share their experiences.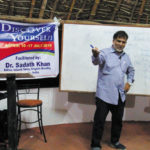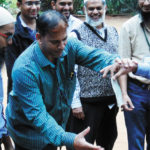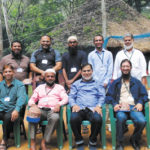 MAHMOOD ASHRAF: One of the best workshops I have ever experienced. It was so enlightening for me that I felt, I was taken out from darkness to light. It gave me a correct understanding and the true perspective of Islam, the message of the Qur'an for my journey of life towards Aakirah, Allah's prescription of code of conduct and the direction of my efforts to serve humanity. I have found many answers today about Islam and my core purpose. It gave me some vital tools to guide me in making the correct choices that define me and the experiences that I gather. Relationship management was one of the vital teachings, a complex component of life, made so simple. I commend the efforts made by Dr. Sadathullah Khan, to understand the crux of the message of Islam from the Quranic perspective, the life of the prophet Muhammad (Pbuh), his companions, apply the perspective of modern science, human psychology, quantum physics and derive simplicity in the delivery of this message that anyone can easily understand. Extraordinary! I enjoyed the flow of topics that connected one to the other, explanations with examples from history, current events, our environment and culture, videos and role plays. Overall, a life altering experience for me. I consider myself to be very fortunate to have experienced this opportunity that has impacted my life forever.
Words cannot express my gratitude and commendations for you and your efforts to make people understand the reality of Allah so easily which, in fact is so difficult otherwise, to come out of my stubborn filters and my satanic ego. You have shown light, I shall continue to spread this light to every aspect of the humanity I touch. I shall also work to promote this workshop among our youth who are confused and need direction today.
SHABBIR: It was not a workshop, but a journey to make you realize who you are and your hidden potentials. It was a clear mirror displaying what world you were in and what world you make in your life. It was a place where we got new spectacles, spectacles which shows how really the world is "" what is expected out of us – a world where no one is right or wrong. A world of understanding what complete submission means, a world where there is peace, a world where there is respect for all no matter who they are. It was the best seven days of my life, full of energy from 5 am to 12.00 am at night, still no fatigue- in fact we wanted this workshop to be there for more days, but it was just for seven days. A disconnect from the world of laptop/mobile to connections where realization of love for friends, family, relatives, other religions, humanity, country, etc. I started seeing my environment with clarity than what I was doing before the workshop. This workshop has helped me to read and understand Quran from Allah's perspective in a better way, practice Islam without any noise in the head and be a good representative of Islam to serve humanity. Salute to Dr. Sadathullah Khan for his brilliant efforts for humanity.
FAHEEM: This workshop has changed my life. It has given me unshakable patience, commitment and gratitude. I must say I am a better individual at family and professional front than I was before the workshop. It has prepared me to control and execute tasks for results. To simplify, the workshop has taught me how to operate for the greater results I always wished to achieve, but couldn't. I am at peace and have a spearheaded approach towards my business and family front. I had sharpened my problem solving skills here. It immensely helped me to make real life (tough) decisions. Results I always wanted, but could never come close to them. My family is happy so am I. I am a practicing Muslim now, than I was before. My Salah has improved. This workshop has a holistic approach towards life. Muslims and non-Muslims alike should grab the opportunity to attend this workshop as soon as possible.
HIDAYATHULLAH: I am participating for the second time and this workshop enhanced further my concepts and purpose of human beings in this world. New concepts have opened the heart and we could experience the resonance and positive magnetic energy among the participants. Team building exercises and physical activities were awesome. DYS-TT workshop, if possible should be hosted in different cities in India and other countries as many may not afford travelling to Bengaluru.
JONAIDUR RAHMAN: This one week Train the Trainer workshop has been an eye opener. Many doubts have been cleared and I got the concept of how to live Islam as a way of life and apply it in our daily life. I feel and experience peace in and around me.
HADI: This is my second Train the Trainer workshop. My experience all through these workshops is "Everything can't be learnt in a single workshop and the same applied in our life" This is like a school curriculum – Learn gradually and apply at the same pace. Hence all through these workshops, I used to learn and understand one or two areas and practice the same. Prerequisite to become a Trainer is "Gain knowledge, practice and practice, apply in real life, make a difference to self as well as others, so that people around me perceive me differently. I am ready to take off". This workshop gave me an ability to think as well as feel. All through these workshops my faculty of listening was getting focused. The opinion and judgment machine began diminishing. I could very well differentiate the faculty of mind and heart, the belief system is very clear. And also through the video sessions, I discovered how my values and thought process affect me, others and the environment. In the time to come, what matters is how I practice in my real life. The coach has given his 100%. May Allah reward him. The workshop being residential, has made a lot of difference. It was totally focused being in the natural and serene environment, without any disturbance from the external world. A complete nourishment to mind, heart, body and soul. Thank you Coach! Who I am is my Word, Commitment, Responsible, Grateful, Generous and focus on others.
KHALID: After attending numerous workshops and seminars in the last 30 years, all I could learn was "how to become so and so". But this workshop taught me what it means to " BE". It really transformed my attitude towards my day to day activities and also gave me the ability to look into myself rather than looking meaninglessly standing in front of the mirror. Rectification of self is something I had missed all through. Thanks to Sadath bhai for his fabulous effort and genuine interest he exhibits during his training sessions. This programme is an ideal one which in my view is a must for everyone to make the best out of this life gifted to us by the Almighty.