The Discover Yourself Workshop was held in Cape Town, Pretoria and Johannesburg in September 2015. Some of the participants share their experiences after the Workshop.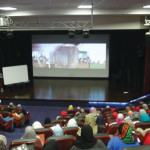 "¢ I discovered that the words in my conversation create my future.
"¢ It is life changing, an eye opener and realization, exhilarating, very interesting and excellent.
"¢ I found it excellent, valuable, very beneficial, very interactive and very well presented.
"¢ The workshop has really led me to discover myself.
"¢ I have been my own worst enemy by not letting go off the baggage.
"¢ It is very helpful, a life changing tool that will help me for the rest of my life.
"¢ This is my third workshop and every time I come, I am able to work on another part of my life, Alhamdulillah.
"¢ It gave me some tools to be true to myself and to find my purpose of life.
"¢ Alhamdulillah! I got to know that how people occur to me is simply my opinion of them- If I see them as beautiful, good etc.. It will be reflection of what is in my heart.
"¢ It was enlightening-clearing up many questions.
"¢ It opened my mind to reality and to live in a conscious state.
Could differentiate opinion from Reality.
"¢ Before I was scared of the future and sometimes angry. Now I am ready to embrace the future and learnt that my anger is self-created.
"¢ Removed the veils from my eyes and presented me with an opportunity to erase my past.
"¢ It helped me to identify my ego.
"¢ It is necessary to attend the workshop to open the heart.
"¢ All teenagers should attend this workshop to prepare for the life ahead.
"¢ My life was complicated and I was in denial about my daily life, but now I see the light.
"¢ This workshop helps to come back to God.
I have just assisted with the workshop 'Discover Yourself' held in Johannesburg on the 12 and 13th September, 2015. I have been to many lectures, talks, but nothing has had more of an impact on my life than this workshop. Life changing workshop through Allah's help. Sadathullah Khan is able to teach us basic life skills on how to deal with life, moment to moment and coaches us on the important life skills on how to calmly deal with any issue we may face.  I saw in front of my eyes how people came in there depressed and left liberated, praise be to Allah. Discover Yourself is hosted by Sadathullah Khan from Bangalore, India. He has hosted this workshop all around the world, US, Dubai, South Africa and many parts of the world. Malaysia, I think will love this workshop. Malaysia is truly missing out on a workshop that is transforming lives. Does anyone have any idea which organisation would be willing to host this workshop there. Here is my review of this workshop- http://www.nanima.co.za/2011/03/discover-yourself-by-sadatullah-khan/ Nanima, 
http://www.nanima.co.za 

MASTOEROA WILLIAMS: I had an awesome, mind blowing workshop and I am very grateful to you. Mr. Khan, you have an amazing ability to reach out to people and give them beneficial knowledge, which when implemented will create a total mind shift in thought and behaviour. This workshop should be presented to all the people in the world and it will make so many changes to those who want and need it. I am going to bring my family, friends and brothers and sisters in Islam when you are next in Cape Town, God willing! Thank you so much for the tools, relaxed breathing, energised breathing, relaxation techniques. I feel so full of love and even more gratitude in my life, I behave differently with all the people and my life, and it is just so great and I am grateful. I am treating my children as human beings and not enforcing my way only, I give them a choice. Whenever you come to Cape Town, I want to know, so that I can attend whatever workshops you will be presenting.
RABIA: Thanks. I got the concept of living life. I promise myself that I will stay positive and try to apply what you coached me. Its almost 8 years of my separation and divorce, I want to love someone and be loved It's just never happened. Thanks again.
SHABIER: It is a life changing experience. I have attended Khan Sir's workshop in the past. I have evolved over these years. We are human and we tend to weaken over time and we rust. I therefore, need to attend now and again. In general my family bears witness to the fact that I am a new human being Alhamdulillah. Sadathullah Khan is Allah sent. I love him. He is really passionate about changing hearts. With me it has really worked and it changed my life.
SHAHEEN: It is very motivational. I was a person with no zest to live because I thought I was useless. After attending this workshop, I am now a woman with lot of confidence and I have achieved a lot Alhamdulillah. With the help of Almighty Allah and the motivation of Khan Sir, my family has seen a change in me and taken me as a mentor. .
SHENAZ: I am grateful for the contribution the workshop has made to me. It has been a life changing experience. To me it is as if Allah has accepted a dua of mine. I beg Allah for guidance, direction and His mercy. And this, to me is all of the above. I make dua that Allah grant the organizers and Khan Sir, the reward, and always the means and opportunity to reach as many people as possible with no limits. I now have the tools and pray that the Almighty keeps me steadfast to use these tools to show and equip my family and friends to find the truth, peace and acceptance.
ZEENATH: Subhan Allah! Amazing, how all the answers were within me and all the changes I need to make, lies with me too. Before the workshop, I felt my life had blockages, despite trying to make changes, it did not bring about significant change. The workshop made me relook and change my perspective about it and realized that the blockages were in my mind and created by myself. Benefits were many, they were mainly tools in how to deal with life in each moment.
RAZAAN: The workshop was very informative and encouraging. Before the workshop, I always thought my way was the right way and did the blame game. After the workshop, I realized it is not all about me and I have to let go of all my expectations. I have to count my word and accept that people have their opinions and not allow it to affect me and my perspective of life.
SAIF: Before the workshop, I thought I have a lot to achieve and need lots of money. After the workshop, I realized how grateful I am supposed to be with what I have. I felt something coming out of me and it's like I am opening up to reality. I am more tolerant now and not too judgmental. This is wonderful and an eye opener.
SUMAYAH: It is really life changing. My life before the workshop was full of stress, judgments and blaming and I have let my ego take over myself. Before the workshop, I was blind and I could not distinguish between Truth and Falsehood, but now, I am practising to have complete control over myself.
NASEEMA: The workshop shifted me from victim to creator of my own reality. I see so clearly now Alhamdulillah. The tools of living in a state of 'LA' is huge, and living moment to moment has allowed me to shift my perception of all the people in my life. I have learnt to be silent and do not have to be right, and have the last say. I feel free! I do not have to please anyone and do not have to make excuses for my decisions anymore. I am open to all perspectives. I am love, I am responsible, I am grateful.