The Discover Yourself Workshop was held in Azaadville, Cape Town and Durban, South Africa, in March 2017. Some of the participants share their experiences about the Workshop.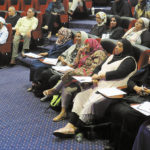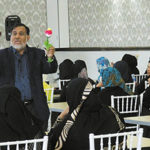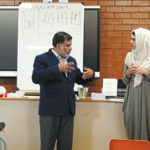 change your perspective, everything else changes. Allah's help will be with you.·

It has taught me to make the shift to living in the now and bring my thoughts to the present moment and submit to what is.

It has helped me to open up and build my self-esteem and confidence.

Alhamdulillah, eye opener, Many issues have become clearer and I realized that I have to change, I cannot change anyone.

In many ways, it helped me understand who I was, making sense, informative and it is the road to Jannah.

The workshop made me more aware of my thoughts, actions, language and most important, my link to my Creator.

The workshop taught me to look at each problem that we face in life with our heart (realization faculty) and not mind (rational faculty) with the help of Allah and not my ego.

It was brilliant, really helped me. I feel like a new person with a clearer more realistic understanding. I believe the workshop will be beneficial for all ages.

It provided me the tools to change everything in my life for the best life I could experience.

It was filled with moments of awareness, clarity, peace, calm and transformation. I found answers, deeper meaning, and an authentic self.

The workshop has given me the practical tools to use daily, to achieve my full potential

The workshop has awakened my consciousness.·

It helped me with being confident in getting to know myself, and how to respond to other people.·

The workshop helped to show me a way to heal myself. The name of the workshop should be -"How to Heal Yourself". I can feel the difference.

I found it very informative and enriching, market this workshop on social media.·

It has opened my heart and I know now how to deal with life's challenges.

I learned a process to help become a better Muslim and a human being. It is necessary for every person to attend.·

The workshop is extremely transformative and liberating for one who was stuck and felt unworthy, sensitive and a people pleaser and finally connecting to the truth.
ANISA: I had lot of anger, low self-esteem and blaming others before the workshop. After the workshop, my mind became clearer of what I have to let go, within myself. My heart became softer to what is happening around me. I have now a purpose in life. I have made goals for myself to overcome all the perceptions in my mind. I have come to the realization to see life in a different light without being judgmental.
YASMIN: I have discovered a new "ME". I have decided to submit in every aspect of my life to the Truth. My family is laughing at me that they have discovered a new mom. I am not angry with my husband and have decided to make it a rule in my home. I must only be for the pleasure of Allah and let things be as it is. A special thank you, for clearing my mind and helping me to see things more clearly.
AATIQAH: The workshop is a reminder about our purpose as Muslims and human beings. All the questions and doubts that I had before I came were answered and clarified this weekend. I want to come closer to Allah, I want to live in the present, forget about the past, serve humanity and most importantly forgive and love myself. I was given all the tools to accomplish these things at this workshop. Jazakallah Khair, for enlightening me and to help me to grow.
RIYAAZ: Before the workshop, my life was very chaotic and hectic. After the first day, I came to realize to live in the present and the "NOW". If I continue to practice, and I am sure it will be much easier to accept and submit to Allah's will. At this state, I will be able to make choices with my heart and live with my family and fellow human beings in true harmony.
FATIMA: My life was boring, the same every day, doing my housewife duties. Always putting others first at my expense and I reached a point where I am exhausted trying to please. This weekend was time out for me; I came alone, with my two young daughters from Rustenburg, to attend this workshop. I did not come looking for answers but received a lot. First time ever I attended a workshop. So I realized that I am to blame for the way I feel and no one else. Truly I am discovering myself. I need to make a change within myself.
JASMINE: My mind was full of whisperings and one foot always in the past and the other in the future. So much anger was present that I lost interest in talking to people and I isolated myself. Bad things had happened to me and so I was all the time angry and emotionally upset. Now I know how to deal with my emotions and the opinions of others. I have a direction that I need to be in the now and live my life to my fullest potential and not to worry about other's opinion to cloud my judgments.
ABDURAGHIEM: The workshop set me free. Before the workshop, I was always right. I blamed others, I stressed a lot, lots of chatter in the mind and very opinionated. After the workshop, no opinions- in the state of nothingness (using LA) and living in the present moment free of stress. The interaction in the workshop was excellent.
ISMAIL: The workshop opened my heart to realize that all of the mental chatter is only people's opinions. It is heart opening. I could not get over the perception what people are thinking about me. Alhamdulillah, I have come to the realization that all of everything is only but opinions and judgments. And I have broken free from that.
RASHAAD: Before the workshop, logic was the only possibility and I had many unresolved issues. After the workshop, got to know alternative ways of thinking. It is mind altering. It should be made compulsory for everyone to attend.
IMTIAZ: The workshop thought me to trust myself and focus on the present. It thought me how to open my heart towards good and evil, to forgive and to recognize what Allah wants from me.
AZIZA: The workshop was excellent, useful, life-changing, Iman strengthening, seeking the love of Allah. Most beneficial was the understanding of opinion, the forgiveness process was healing and I got a new perspective in understanding Islamic ethos. I am able to apply the principles of Islam and I loved all the Quranic and hadith references which support the application.
NAJU: I always felt unworthy, could not put boundaries and did extra mile for everyone and had always felt had to prove myself. I intended to come to the workshop in spite of having a family function with in-laws. I was debating myself only to attend Saturday and two hours before and after the function on Sunday. But I stayed whole of Sunday"" had the fortitude to go the function meet everybody and stand up for me and I went and showed relatives love and respect and excused myself. So I, after 57 years feel liberated and transformed, Alhamdulillah. It equipped me with tools to face reality for what it is and not to the meanings or opinions that bug me down with undue suffering.