The Discover Yourself relationship building workshop was organised by
the management of Abdul Razak Karsekar Polytech College, Panvel, Navi Mumbai on the 20, 21 and 22nd December 2013. Over 650 parents, students and lecturers participated in the workshop. Here are some of the experiences shared by the participants: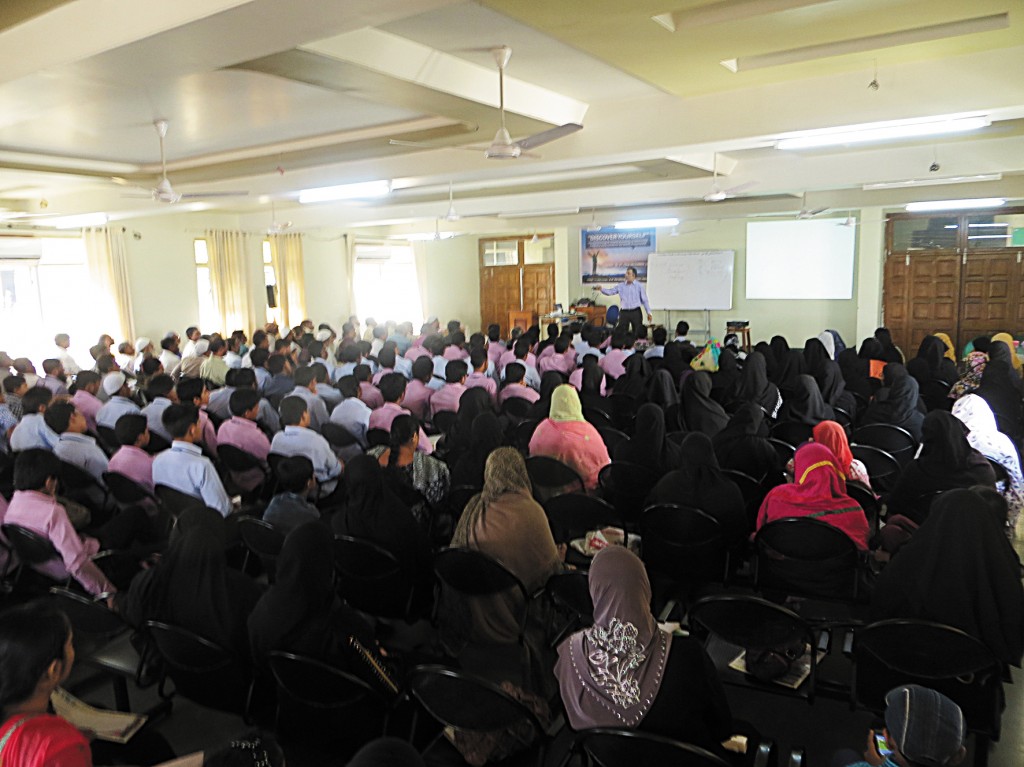 It is too good to polish our Iman and to know ourselves. It helped to know who we are and what is our purpose in life.
It helped me how to educate our children and find solutions to our problems.
Everyone should attend this workshop at least once in a life time.
It helped me to connect and cleanse my soul.
It is useful in our daily life, in my studies and in making decisions.
I came to know how we have to come out of the false world into the world of reality.
It helped me a lot to overcome my fear of the future and showed me how we create our own future in the present through the decisions we make.
It helped me to judge my problems and to understand, and how to find solutions for the problems.
It helped me improve my concentration power specially during my prayers.
Good interactive session, it is very useful for healthy communication between the parents and the children.
I showed how to develop a healthy relationship between parents and children.
It is very useful for living a peaceful life.
It helped me to think positive instead of negative. It guided us all in the way of Allah.
Very useful for students and their parents to lead a life as per Islam.
ATIQUR RAHMAN: It is very useful. Never attended a workshop like this. I had been to many seminars, workshops, etc. during my career in the merchant navy, chief engineer of different shipping corporations since twenty years. But this workshop was spiritual, life changing, it shows our aim and purpose of life. It clearly distinguishes between the mind and the heart. Really it is very exceptional. I appreciate your efforts to guide mankind.
ANAM: Alhamdulillah, may Allah give the best reward to you and to every single person involved in organizing this workshop. It was very effective. We do attend many lectures and seminars where Islamic morals and etiquettes are taught , we follow for some time and forget. But this unique workshop really helps and guides us to implement them practically. It showed us how to accept realty and to find solutions rather than being ungrateful and complaining. All I want to say is Jazakallah Khair.
INAMDAR: I liked the simple way of explaining and the way we were attracted to listen, it was very practical, including the live examples. And it helped us make decisions to practice in our lives. I really liked the video clippings shown, they were very touching and forced me to think always positive.
HINA: Alhamdulillah, I discovered myself which was lost by the present worldly education, which connects to our mind and focuses on only survival. You connected us to our hearts. Very fruitful, we learnt specially regarding improving relationship with our Master, our Lord, the only source of Peace. Inshallah, I will try my level best to implement and share it with others as well. May Allah grant you highest ranks in Jannah and accept your efforts .
KAMRAN: This workshop was very interesting, informative and the arrangements made were very good. I sincerely feel you are doing so much good to our society and to our students. I am very thankful to your institute and your teaching staff.
ARSHIYA: This is the need of the generation. Alhamdulillah! We hear speeches about the Do's and don'ts, but those are theory, but the uniqueness about this workshop is that it provides practical solutions to the day to day problems from an Islamic perspective. May Allah reward you and give you success in this life as well in the hereafter. Jazakallah for all those who contributed their efforts to organize this workshop.
FARUK: It is good for both the parents and students to attend this workshop together. We should not be concerned about what others would think, rather, we should focus on what is good for our children.