Ten-Days Residential Discover Yourself Leadership Development workshop was hosted at The School of Ancient Wisdom, Bangalore from 20-30 December 2022.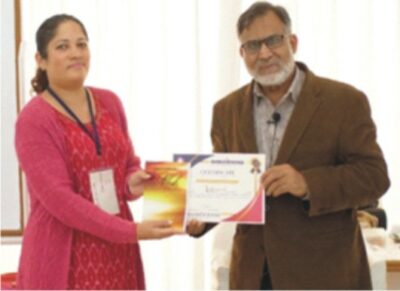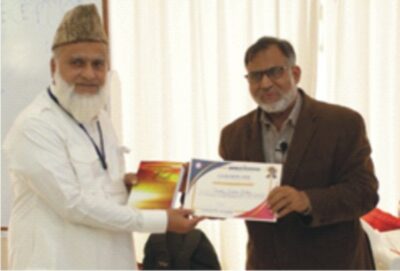 Some of the participants share their experiences:
• This workshop is a living example of our day-to-day life and I got the realization.
• The workshop was filled with love, truth, compassion, warmth, laughter, tears, enlightenment, and most importantly, it was filled with humanity in its purest form.
• Happiness is inside all of us. Sometimes you need someone to find that.
• I discovered the true me as a human being and I have found the purpose of my life i.e… Love of Allah.
• The counseling techniques have given answered my many questions.
• The best place to transform from mind to heart.
• It is an essential course for every human being and a must for youngsters.
• I feel free and happy, just want to walk on this biggest transformation from charcoal to diamond.

Dechamma: I came here with so many questions. Questioning my existence. Today, I stand here with complete silence and all my questions seem to have evaporated somewhere. I felt alive somewhere I was dead. My heart is filled with so much love, love, and love which I have not experienced for a very long time. I feel there is so much to do going out from here. Thank you, sir, you have connected me to my Creator. The Creator who cannot be seen/felt. My heart was zipped, thanks for opening it. There is so much to give unconditionally and yet again I would say "Love moves the world". I declare that I will serve my Creator's creation and the Creator will show me the way and I shall follow.
Pyman Jamal: I have been associated with Discover Yourself Workshop since 2018 and there has been no looking back since then. Every workshop has been enriching and enlightening. There is always something new to learn and apply in my life.
Our beloved coach Sadath Sir ensures every act we do is from the context of Allah's love and also to see and treat everyone as HUMAN BEING. Jazakallah khair Sir, for tirelessly working to bring us out of the opinion or judgment world to the world of reality and truth. You have imbibed in us that Islam is a way of life of submission to the Truth and Reality. Alhamdulillah, accepting reality now comes with ease. I am experiencing and enjoying life. The transformation within me was a shift from "focus on the self" to "focus on others". I strongly recommend this workshop to everyone.
Yumna Fazal: The workshop was like a life-changing one for me! Went there with so many questions and fears and all I knew was that whatever happens I'll not give up and will overcome the fears and find answers. I listed them down…but after going there I realized they were many more.
I actually realized that I was the one who was creating problems for myself, which was important as – "Realization is the key to transformation"?
The environment of that place was so peaceful, connected to nature, nonjudgmental, helpful, caring, and full of unconditional love…
I even met such lovely people over there and we formed a beautiful DYS family.
At the end of the workshop, Alhamdulillah there were transformations from charcoal to diamond.
Alaisa Sehrish: The Workshop focused on Transformations through wisdom rather than mere informative talks of knowledge. The person who came to the workshop and left the workshop were two completely different personalities.
During the workshop, we shared our life experiences, we shared hugs, tears, our deepest fears, our warmth, and love. And by the end, we shared a Goal – to share with the whole world what we got from this life-changing workshop and to make a difference in this world just the way Sadathullah Khan Sir made the greatest of difference in Our world!
During the workshop, I realized that Allah has given us the freedom of choice. We get to CHOOSE what we want, which path we want, and we alone are Responsible and Accountable for our choice.
Tanzeem Fathima: I attended this 10-day workshop to escape the daily stressful life. On the 3rd day of the workshop, I felt my soul which was shut deep in me was liberated through which I found peace and freedom from all the self-questioning (How/why). Sadath Sir was an extremely understanding and trustworthy coach who walked us through the absolutely beautiful reality of life.
Alhamdulillah, it feels like I've been reborn and my connection with Allah has reached an extremely high level. I discovered a better version of myself and began the journey of self-love, opportunities, forgiveness, and being a responsible Khalifa of Allah.
Highly recommend this workshop for all age groups.
Sarah Fathima: It all began with a plan and resulted in a plethora of memories to be treasured for the rest of one's life. After attending DYS TT, I realized that a new ME required not only an external change and internal motivation but also the ability to organize oneself from within. To focus on one's BEING rather than one's DOING….There I discovered WHO I AM.
The realization that I CREATE my own problem, assisted me in analyzing my mistakes, rather than blaming and complaining about the circumstances to avoid suffering.
This workshop shook me to the core; my perception of myself, and others, as well as the purpose of my life, have all changed and are now heading in the right direction; which is the path of Submission.
This workshop is the need of every individual existing in the world, struggling to find happiness and peace, as one is seeking peace and joy in the external but in reality, it lies within us.
I first like to thank Sadath khan sir for his unwavering dedication to his vision of helping the ummah. I consider myself lucky to be part of this course since 2011.
Javeer Nakooda (Durban): Prior to the workshop, your issues are external and everybody else needs to be fixed. Post-workshop your issues are internal, I got no time to fix others because I have got a thousand issues to fix in myself, internally.
In ten days, I have seen a miracle. I have seen 45/50 strangers listen to their coach to show love and kindness, and focus on others, which in turn led to Participants treating each other as human beings, not objects.
Participants are in the present, in a state of 'LA'- Nothingness which makes it easier to listen.
Nobody is judgmental, interpreting, or making the assumption. Participants feel so safe that they share so deep inner secrets with people they met for the first time in their lives, yet back home they know people all their lives but they can't share these inner thoughts with.
DYS Leadership Workshop 8 is a bond of strangers into a family of love and kindness in ten days.
You need to find your blind spots through these DYS TT courses to develop yourself so that you can go out into the world, with this character and be of benefit to mankind.
Sanaa Jamal: The letters of the alphabet are not enough to describe the absolutely magical experience that I had in the ten days. What a memorable time I had! With people from all walks of life gathered for the same purpose, stopping, falling, learning, and growing together. I thank God every day for this family. Sadath Sir's vision and hard work to make it a reality is unlike anything I've seen before and I feel proud that God chose me to be a part of it. The journey of life inside the DYS workshop brings peace internally…it made me realize that life is simple, but I was so caught in the everyday rat race.
Not just life but even my love and connection with our Creator has increased because of Sir's cause. The human-to-human, non-judgment, nonopinionated zone of DYS is MAGNIFICENT, one WANTS to keep coming for more sessions.
Nilofer Kazi: Attending the 'Leadership Development Training workshop' conducted by Sadathullah khan sir was a great opportunity for me. The workshop was enlightening, well-structured, detailed, and very informative. Sadathullah Sir conducted it with great enthusiasm and passion. He touched upon many subjects for which I was looking for answers. He also sprinkled humor and kept every participant engaged. The outdoor activity was well-planned and was full of adventure. All participants greatly enjoyed it.
I went back with great learnings, experiences, and memories from the programme. My heartfelt thanks to Sadathullah Sir and his team. May Allah bless him for his efforts and spiritual journey.
Abdul Khader: I attended DYS TT from December 20th to 30th December and it was a life-transforming experience for me. I can guarantee that this is the solution to all our present-day relationship problems. I was very skeptical about attending it at first because I didn't get an answer about what it actually was about. After attending this workshop, I got the answer to not just that particular question, but all my questions about life. At first, one might not feel the need for it, but I believe everyone should attend this at least once. I recommend anyone reading this to go for it and you will not regret it, I assure you.