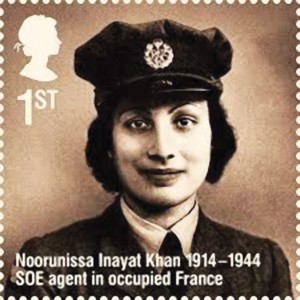 London: Britain's Royal Mail issued a postage stamp of Noor Inayat Khan, the World War II heroine, who was a descendant of 18th century Mysore Tipu Sultan. The stamp is a part of a set of 10 stamps in their 'Remarkable Lives' series and honours Noor on her centenary year of birth. Others honoured in the set include actor Sir Alec Guinness and the poet Dylan Thomas.Author of 'Spy Princess: The Life of Noor Inayat Khan" Shrabani Basu said that it will ensure that her sacrifice and bravery will not be forgotten. Basu is chair of the Noor Inayat Khan Memorial Trust.
Basu campaigned for a memorial for Noor which was unveiled in November 2012 by Princess Anne in London.
Noor Inayat Khan was born in Moscow in January 1914 to an Indian father, Hazrat Inayat Khan, and an American mother, Ora Ray Baker. The couple had met in the Ramakrishna Mission ashram in America. Hazrat Inayat Khan was a Sufi preacher and musician and travelled the world taking Sufism to the West.
Noor was brought up in Paris and the family moved to London when the city was occupied by the Germans in 1940 during the Second World War. In London, Noor joined the Women's Auxiliary Air Force and was later recruited for the Special Operations Executive, a secret organisation started by Prime Minister Winston Churchill.