By P.K. Abdul Ghafour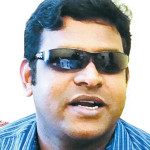 Ablution or wudu, the mandatory washing ritual for Muslims before the five-time prayers helps to rejuvenate the body as a result of washing vital reflex points such as the hands, face, ears and feet, says an Indian reflexologist Dr. C.A. Ansar.
An alternative medicine specialist, Ansar has been successful in treating various diseases such as diabetes, high blood pressure, autism and Parkinson through his healing touch, without any medicine. "Prophet Muhammad (peace be upon him) has instructed us to take care of our feet by wearing shoes in order to protect ourselves from disease-carrying microbes. The foot is a vital organ and considered the second heart of a man as it re-pumps blood to different parts of the body," he told Arab News. Ansar, who became visually impaired after he was hit by glaucoma while studying in Mumbai, said the five-time prayers following ablution does not only spiritually energize the individual but also activates his vital organs.
Ansar, who can identify various diseases by touching the individual's foot, said that reflexology is a successful treatment which has been widely practised in China, Indonesia, Malaysia and Thailand.
"Many of my diabetic patients have stopped taking medicine after the disease was controlled by activating the pancreas. I also teach them some exercises to boost blood circulation."
Dr. Ansar intends to establish a reflexology center in Kerala. He noted that pharmaceutical companies were doing their best to discourage the treatment because it does not require medicine which would greatly reduce their sales.
Ansar, who is busy all the year round, attributes his success to God. "I treat patients with dedication and God takes care of the rest. There have been some amazing results; some patients who came to me on a stretcher have gone home on their feet," he said.
Ansar believes that reflexology is a natural treatment for diseases. "The Prophet has said that God has a remedy for every disease," he said, adding that the reflexology foot chart is like a maintenance manual for our body.
Ansar, who did his higher studies in reflexology and related treatment systems from Singapore, Malaysia and Thailand, has been working in the field for about 12 years.
Three of his assistants at Ansar Healing Touch Clinic in Ernakulum are also visually impaired. "Our success proves that the visually impaired are definitely capable of giving hope and happiness to others," he added.
For more information about Ansar and reflexology log on to www.hthc.in.