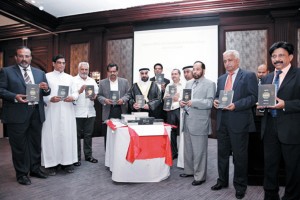 By A Staff Writer
Mangalore: Kannada translation of the Holy Quran by journalist Abdussalam Puthige titled Kannadalli Quran Anuvada was released in Dubai in the second week of May at a well-attended gathering.
This is the third edition of the translation published by Madhyama Prakashan, Mangalore. It runs into 672 pages and is priced at Rs. 180. According to Mr. Puthige, who is also the editor of Vaarta Bharthi, Kannada daily, the rendering is in extremely simple language. Brief commentaries on important concepts are found in a separate section in the final section of the translation.
He told Islamic Voice that the quality of the Kannada language used in the earlier translations was poor and sometimes outdated. "Their style reflects heavy influence of either Urdu or Malayalam. Normally writers who do not speak Kannada in real life tend to write Kannada in a style that sounds unnatural and sometimes haphazard," he added.
All previous translations were actually retransferred from one or the other translation of Quran already existing in Urdu or Malayalam. So the attempt to remain faithful to the text of the translation would result in losing touch with the Arabic text.
Dr. Omar Mohammad Al-Khateeb, Assistant Director of the Department of Islamic Affairs and Culture, Government of UAE and India's ambassador to the UAE, Mr. M. K. Lokesh were the chief guests at the function. Fr. Alfred Pinto, parish priest, Kinnigoli, Mangalore; Noted NRI Syed Khaleel; Convener of Namma Tuluveru Shodhan Prasad; Herman Lewis from Radio Spice; Chartered Accountant L. V. Puthran; Chairman of the Khushi group of Companies Shareef; Satish Poojary, President of Sharjah Karnataka Sangha; M. E. Muloor, President of the Beary's Cultural Forum spoke on the occasion.
Dr. Al-Khateeb and A. R. Lokesh together unveiled the book. Puthige said he had been doing the work for the last five years. The first two editions were released in Udupi and Mangalore last year and have so far sold nearly 10,000 copies.