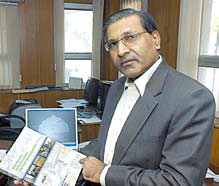 Noted economist Abusaleh Shariff, former member-secretary of the Rajinder Sachar Committee has taken over as executive director
of the US-India Policy Institute (USIPI) in Washington DC. The Institute would articulate policy vision for economic development, diversity, equal opportunity and inclusiveness. It would provide forum for debate and discourse on strengthening democracy, secular institutions and minority rights in India and the US. Originally hailing from Bangalore, Shariff has wide experience in Founded by a group of American NRIs, the Institute will take up research and publication, preparation of status reports on issues of development,
democracy and diversity, will strive for establishment of equal opportunity commission leading to creation of ministries at federal and state level and exchange programmes and engaging civil society through dialogue. Mr. Ataullah Khan a representative of the USIPI who was in Bangalore in second week of July told Islamic Voice the Institute will coordinate with Center for Research and Debates in Development Policy (CRDDP) in Delhi  to promote research, bring out publication and conduct debates on the subject. CRDDP
is headed by Mr. B. L. Joshi, who was earlier associated with National Council for Applied  Economic Research (NCAER) and senior consultant, Committee for the Consultation on the Situation of Andhra Pradesh. CRDDP is situated at A-702, Plot 97, Indraprastha Estate, Delhi "" 110092.