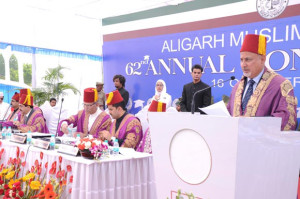 Aligarh: The Aligarh Muslim University organized its 62nd Annual Convocation last fortnight. Over 4,000 University degrees were awarded and around 240 gold medals were given to University students.
Director General, Islamic Educational, Scientific and Cultural Organization (ISESCO), Rabat, Morocco, and Secretary General of Federation of Universities of Islamic World (FUIW), Dr. Abdulaziz Othman Altwaijri presented the degrees. He called upon Muslim youth in India and all over the world to come forward and project the "true, humanitarian and inclusive image of Islam" to the rest of the world. Delivering the Convocation Address at the 62nd Annual Convocation of the Aligarh Muslim University, Altwaijri, who is a noted educationist in the Middle East, said that in today's world, which is threatened by the divisive forces of "terrorism and senseless violence", it had become incumbent on Muslim youth to reaffirm the image of Islam as a "religion of peace and mercy". He said he was confident that the fresh graduates of the Aligarh Muslim University were embarking upon "a new journey to serve the Muslim community as well as all humanity for enlightenment and progress in all avenues". He lauded the AMU for launching a Bridge Course for graduates of Madrasas for providing a link between Quranic schools and modern education.
Delivering the University's Annual Report, AMU Vice Chancellor, Lt. Gen. Zameer Uddin Shah (Retd.) said that the Madrasa Bridge Course was a "unique initiative which will go a long way in making Madrasa students stakeholders in nation building".