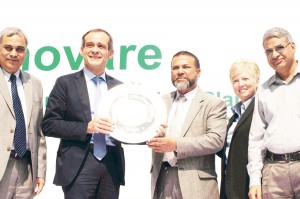 Bangalore: Bearys Global Research Triangle (BGRT), a 9.5 lac sqft Research Park, developed by Bearys Group in Whitefield Ashram Road, Bangalore has been awarded the prestigious Platinum LEED certification by the Indian Green Building Council (IGBC). This is one of the most coveted green building certifications globally, considered to be the most stringent, and takes BGRT into the league of the select few elite green developments around the globe. BGRT also plays host to Global Fortune 500 companies such as L'Oreal and Schneider Electric, which has set up its largest global RandD centre in the premises.
"BGRT was launched with a vision to create an R and D hub in Bangalore. Our mission is to increase the green footprint and promote the green building movement in India. This award is recognition for our efforts in this direction and I hope that BGRT inspires the industry leaders to adopt greener standards in all future developments" says Syed Mohamed Beary.
The Platinum LEED Plaque was handed over by Mr. S Srinivas, Exec Director, CII-GBC to Syed Mohamed Beary at a ceremony in the presence of Mr. Jean-Pascal Tricoire, CEO and Global Head of Schneider Electric, Mr. Anil Chaudhry, Country President, and Ms. Annette Clayton, VP.