Windsor Manor vs. Karnataka Wakf Board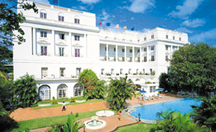 By A Staff Writer
Bangalore: The Karnataka Board of Wakfs won a major legal battle against Hotel Windsor Manor, a five star Hotel under ITC group in the second week of July, 2013. The Public Premises Court has ordered the Windsor Manor to vacate the 164,000 sq. ft land of the Agha Ali Asker Waqf in the heart of Bangalore where it has been running the luxury hotel for the last 33 years. According to Chairman of the Waqf Board, Abdur Riyaz Khan, the Board was now entitled to seek vacation of the premises by the hotel management with the aid of police. The vacation has to take place within 45 days.
Agha Ali Asker Waqf is a Shia waqf. The waqf land had been leased out to Shivaram Hotels for 30 years which ended in 2003. The Shivaram Hotels had in turn sub-leased it to ITC group which started the five-star Windsor Manor Hotel, which stands facing the scenic Bangalore Golf Course, Chief Minister's residence and the Ashoka Hotel. The Board had launched the case in 2003 to get the premises vacated. Curiously, the land had been leased out for a throwaway sum of rent of mere Rs. 6,000 a month which had remained pegged at the same level till 2003. Pending the legal case, the Waqf Board had demanded Rs. 35 lakh, but the court had fixed the rent at Rs. six lakh which was being deposited in the court as the Board had not agreed to the rent amount fixed by the court. Now the deposited amount has grown to Rs. 6 crore.
Though the Hotel group challenged the Public Premises Act, the Board won the case at all stages.
Riyaz Khan informed the media that they will take out the Rs. six crore and pass it on to the Shia wakf for their charitable activities.
He also pointed out that the PP Court ruling can be challenged in the higher courts and there is also scope for enhancing the rent through negotiationbetween the Wakf Board and the Hotel Management.