The Government is enacting a drama of retrieving Black Money. It is more stupid than being 'Pound foolish and penny wise'. Even the tip of the black money iceberg in the Swiss banks has not been touched in 42 months.
But the common man is being deprived of his money in the bank as well as the wallet.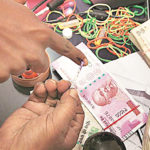 Demonetisation Impact
India Rating, the rating agency says the invalidation of the Rs. 1,000 and Rs. 500 notes would affect the GDP in the third quarter of the FY 2016-17, but would not take long to readjust.

Those who hold Indian currency in invalidated denominations overseas will face the heat and will have difficulty in either exchanging them or sending home.

Production would slow down as factory workers leave work to stand in bank queues.

Sellers of agriculture produce are the hardest hit as this sector deals in cash alone.

Cashless transactions are already rising, a silver lining for the economy.

May affect the prospects of the regional parties like Samajwadi and Bahujan Samaj Party in Uttar Pradesh who may not have sufficient time to exchange their party funds to new currencies.

May even affect the BJP's chances in UP, if the queues remain at the banks and ATMs and farmers suffer.
Demonetisation is a traditional approach to scoop out black money or to make it irrelevant to the hoarders who contribute to stagnation of the economy. Nations across the world have opted for this approach to revive the economy. Greed is the basic instinct of human beings. They tend to hoard wealth in terms of gold, cash, land and other precious articles. One is always sure of the limited time span of his or her life. Yet nothing has restrained people from gathering money in their coffers, more than they or even the next generation would need for a rainy day.
Of all the money in circulation in Indian economy, 85% of it is in the form of Rs. 1,000 and Rs. 500 currency notes. But Reserve Bank of India figures indicate that only 39 to 45% of these denomination of notes were circulating in the country. This effectively means that around 40% of these currency notes were lying unused in private vaults by people who have either saved or hoarded them. India had twice earlier demonetized currencies, in 1946 and 1978. But high currency value notes constituted only 2% of the total then.
Black Money
Hoarded money on which taxes have not been paid is termed 'Black Money'. It is now estimated that share of black money or 'Shadow Economy' is about 23%. Any Government interested in revival of the economy should think of ways to take out the unused, un-invested, treasured, stagnant pools of this High Value Currency (HVC). A second approach to keep the economy revived up is to promote cashless transactions i.e., to cultivate the habit of paying electronically. This is done through credit cards, debit cards, ATM cards or mobile payments such as PayTM etc.
Electronic Finance
Futurologist Alvin Toffler had predicted that the currency notes would become irrelevant as the world progresses into the future and money will retain only a notional value. People and businesses will not handle cash. They will transact businesses by moving money from one account to another account. This method not only discourages hoarding of cash, but makes the tax collection honest and reduces the cost of movement of cash which has to stored, guarded and moved in security vans. Most Western economies have calibrated their systems to move into the electronic finance. People there travel without cash but a host of cards for payment of phone currencies, rail tickets, airfares, fuel charges and for shopping bills. This however requires high degree of financial literacy, sophisticated and fail-safe systems and cyber security. With the current crisis of currency notes, it is expected that India will move a step closer to the digital payment age.
200 vs. 6.7 times
The RBI data reveals that an individual debit card-holder uses his card for transaction only 6.7 times in a year. But an inhabitant in countries like Australia, Canada and the United Kingdom uses them 200 times in a year. The figures for Brazil are 54.8 and for China 14.4. This poor penetration of electronic is mainly because India has poor infrastructure for acceptance of these payments.
90% Business in Cash
India has one crore and forty lakh merchants. But only 12 lakh have point of sales (PoS) machines which collect electronic payments and issues receipts. (Ref. J. M. Financial Report). This means that 90% merchants do cash business. Cash transaction involve issues of security and safekeeping (more so when it has to be transferred) and accounting. The Institute of Business in the Gobal Context (IBGC) estimates that the residents of Delhi alone spend six million hours and Rs. 9.1 crore in the form of fee and transportation costs. Hyderabadis spend 1.7 million hours and Rs. 3.2 crores on this account. The RBI's expenditure on this score amounts to Rs. 21,000 crore annually.
The country had 2.5 lakh automatic teller machines (ATM) and is taking time to recalibrate them to ooze out the Rs. 2,000 currency. The Government must have thought about it earlier. But its hands were stayed as people would have got scent of it.
How People launder
Black money into White?
Bank Staff offering overnight deals to change the old notes for new currency that is 30% less.
People keep their money into accounts of their trusted relatives for a commission.
Cooperative Banks open backdated fixed deposits.
Factory owners pay advance wages for the next year.
Apprehensions
There is a general air of cynicism about all moves to cleanse the economy of black money because it is the mainstay of electoral politics. People pay money to party bosses to get tickets who in turn hire agents, goons to run the campaign and even pay to the media to publish paid news. Once into power, the governments pay back to tycoons, industrialists and media owners through favours, licences, permits, spectrums, mining blocs, and advertisements. Crony capitalism ensures that this vicious cycle should go on. It is widely feared that the cash bloated banks will be asked to give loans to businessmen and industrial groups who would help the party in power to recapture power.
(Compiled by the Islamic Voice staffers)