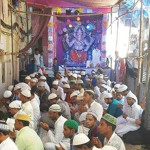 In a show of religious coexistence among adherents of different faiths, Mumbai Hindus offered Muslims a place to perform `Eid prayers at a Ganpati pandal, a temporary structure for Hindu religious/ social ceremonies, due to the shortage of prayer spaces in the city.
"During Ramadan four years ago, which coincided with the Ganesh festival, we had allowed Eid prayers inside the pandal," Sangh member Santosh Nayak told DNA. "It may be that some people find this surprising, but it is entirely normal for us. Hindus and Muslims in Mumbai have always lived in unity here. "There is no discrimination. Hindus too participate in Muslim festivities."
On Friday, September 25, the Seva Sangh Ganeshotsav Mandal in Colaba hosted `Eid prayer at the Ganpati pandal. The Hindu leaders claimed that about 1,300 Muslims prayed in the Pandal hall due to shortage of prayer space. The goodwill gesture of offering place and taking part in `Eid celebrations was welcomed by fellow Muslims.