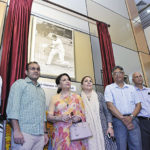 New Delhi: The ultra-modern Sports Complex of Jamia Millia Islamia was named after the legendary cricketer Nawab Mansoor Ali Khan Pataudi and one of the pavilions after the hard-hitting former India opener Virender Sehwag, an alumnus of the Jamia.
Pataudi's wife and yesteryears actress Sharmila Tagore unveiled a plaque naming the Sports Complex after her late husband, popularly known as Tiger Pataudi, at an impressive function attended by Sehwag, Jamia Vice Chancellor Professor Talat Ahmad. The complex was earlier known as Bhopal Ground as the land on which it is located was donated to the university by Pataudi's mother Sajida Sultan, the Begum of Bhopal.
Pataudi played in 46 Test matches for India between 1961 and 1975, scoring 2,793 runs at a Test batting average of 34.91, including 6 Test centuries. He captained the Indian side in 40 of his 46 matches, only 9 of which resulted in victory for his team, with 19 defeats and 19 draws. His victories included India's first ever Test match win overseas against New Zealand in 1968.
An aggressive right handed opening batsman and a right arm off-spinner, Sehwag played his first One Day International in 1999 and joined the Indian Test Team in 2001.
The newly named Sports Complex has indoor games facilities, a cricket ground, football field, basketball and lawn tennis courts. Ranji Trophy matchers are a regular feature at the cricket ground.