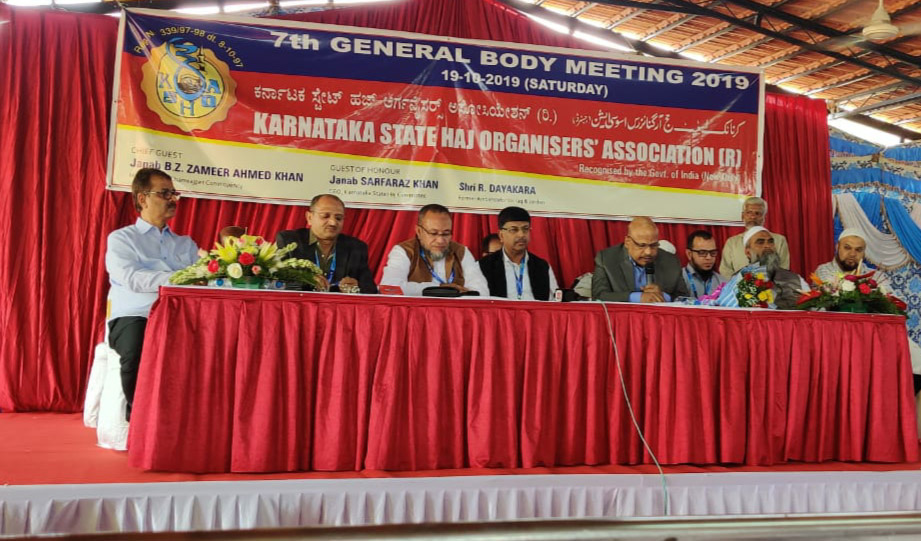 The 7th General Body meeting of the Karnataka State Haj Organisers Association (KSHOA) was held in Bangalore on 19th October. It was addressed by Shoukath Ali Sultan, President of Karnataka State Haj Organisers Association, with Guest of Honour, Mr. Sarfaraz Khan, CEO, KSHOA and Shri R. Dayakar, former Ambassador to Iraq and Jordan, also Ex Joint Secretary to Govt. of India. Also present on the dais were Chairman of KSHOA Iqbal A Siddiqui, General Secretary Shafi Ahmed, Vice President Mohiuddin Sharif Aleem, Joint Secretary Maqbool Ahmed, Ex Chairman of Haj Committee Zulfiqar Ahmed Khan and other dignitaries o f KSHOA. Members from other states' Haj committees also attended.
Shri R. Dayakar mentioned that there are many issues and challenges faced by Haj tour operators.
While addressing the gathering Chairman of KSHOA, Iqbal A Siddique thanked God for giving him an opportunity to serve the Hajis. There were only 2 Haj operators before 1986, and after that year, the number of such operators grew, leading to the formation of an association as a common platform. There is a need for promoting awareness among the Hajis and to deal with the issue of tour operators who lack proper registration and those who try to cheat the Hajis. The KSHOA Chairman stressed the need for proper rules and regulations and strict vigil on cheats.
Haj Tour operators are now referred to as HGOs (Haj Group Operators) instead of PTOs (Private Tours Operators). Among the issues that were discussed at the meeting were some of the challenges faced by private Haj tour operators in recent years.