Under the new arrangement, the students can submit the 'Arivu' loan application to KMDC or its districts offices.
By A Staff Writer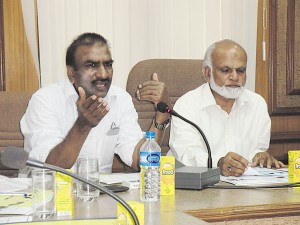 Bangalore: The Karnataka Minorities Development Corporation will sanction scholarships to students appearing for CET under a new arrangement with Karnataka Examination Authority(KEA). The students from minority communities who qualify for the admission into BE, MBBS and BDS will be automatically be sanctioned full CET fee at the admission stage itself. According to Managing Director Mohammed Saleem, an MoU has been signed between the KEA and KMDC in this regard.
Students from minority communities will be able to avail of the scholarship under Karnataka Government's 'Arivu' Scheme provided they come under the Rs. 4.5 lakh annual parental scheme, qualify for the CET and submit an application to the CET in this regard. The application form can be downloaded from www.kmdc.kar.nic.in and should be submitted before May 31, 2014.
Addressing representatives of various scholarship disbursing committees and trusts on April 25, Mohammad Saleem, MD, Karnataka Minorities Development Corporation, said an initial deposit of Rs. 10 crores has been made into Karnataka Examination Authority (KEA) for the purpose of sanctioning the CET fee (which may be around Rs. 36,000 at the base level). He said Rs. 46 crore has been allocated out the Minorities Welfare budget for the scholarship scheme alone this year.
The meeting was called by the Al-Ameen Educational Society. Some representatives urged that scholarships may also be given to students pursuing journalism, chartered accountancy, law, agriculture and allied discipline. Mr. Abdus Subhan Baig, Joint Secretary of the Al-Ameen Society presided over the meeting. Mr. Umar Ismail, principals of several colleges participated.
The original Application form under 'Arivu' (Education loan) Scheme along with Xerox copy of income and caste certificate (for 2A, 2B and 3B and category I) and Xerox copy of CET admission ticket, must be submitted to the concerned District office of the KMDC and obtain 'Acknowledgement' without fail. The addresses of the District offices are available in the website of KMDC.
For further information, contact cell no: 94481-53979, 94488-25991, or Phone no. 080-2286-1226, 2286-0999 or concerned District Managers.