The Hyderabad chapter of All India Jamiat-ul-Quresh has announced that it will impose a fine of Rs 50,000, if any of its members are found arranging lavish weddings.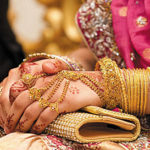 Hyderabad: Muslim organisations in Hyderabad have called for a boycott of ostentatious weddings in the community and even decided to fine its members if they are found spending too much on ceremonies.
They say lavish expenditure, besides the huge burden of dowry, has alarmed some sections of the community as many poor families cannot even perform the marriages of their daughters.
Siasat, a leading Urdu daily known for many social campaigns, has thrown its weight behind the initiative with its editor, Zahid Ali Khan, calling for a boycott of lavish weddings, un-Islamic rituals, music and fireworks.
Khan has also urged the 'ulema' or religious scholars to boycott such marriages so that the community receives a clear message.
The Hyderabad chapter of All India Jamiat-ul-Quresh, a body of meat traders and exporters, has even announced that it will impose a fine of Rs 50,000 if any of its members are found arranging extravagant weddings.
The organisation, which has over one lakh members in Hyderabad, said it will constitute a 'task force' to monitor the implementation of the rules framed to ensure simple weddings.
The body said it will take action against those who arrange 'song and dance programme' or fireworks during weddings. It also asked its members to desist from unnecessary rituals and displaying household items given to the brides.
Quresh's president Mohammed Saleem, who is also a member of Telangana legislative council, said they took the initiative so that members of the community keep weddings simple and in accordance with the teachings of Prophet Muhammad.
He pointed out that the poor and middle-class families are landing in a debt trap while trying to emulate the rich by taking huge loans to pay for the expenditure.
"Muslims in Hyderabad spend Rs. 3,500 crore to Rs.4,000 crore on marriages every year. If we succeed in our campaign, this will improve the economy of the community," Mushtaq Malik, president of Tehreek-e-Muslim Shabban, said.
The campaign was initially launched by Shabban, a city-based NGO, with the slogan 'Ek khana, Ek meetha' (One dish, One dessert) last year but it did not aggressively follow it through.
Hyderabad has few parallels when it comes to ostentatious weddings in the Muslim community.
Lower middle-class and middle-class families spend anywhere between Rs 5-15 lakh on weddings. The expenses on function halls and food constitute about 50% of the total expenditure. Families often compete with each other in the number of dishes served.
There are at least 25 lakh Muslims in Greater Hyderabad.