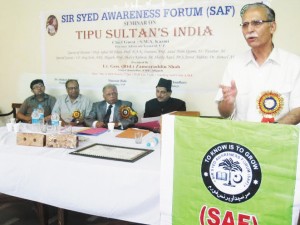 Aligarh: "Knowledge is panacea to all ills afflicting the Muslim community. People with knowledge do not suffer any discrimination and earn the respect of all. The Jews have emerged the most powerful community in the present world just by dint of acquiring knowledge, producing knowledge and dissemination knowledge. Muslim students should fully focus on acquisition of knowledge, leaving aside all other engagements."
These view were expressed by Lt. Gen. (retd) Zameeruddin Shah while speaking a seminar on Tipu Sultan under the aegis of Sir Syed Awareness Forum at Staff Club, AMU, Aligarh on May 5. Former advocate general of Uttar Pradesh described Tipu Sultan as the best example of composite culture.
Prof. Saud Alam Qasmi, Dean, Faculty of Theology, delivered the keynote address. President, Sir Syed Awareness Forum, Dr. Shakeel Samdani said Tipu was intensely loved by his subjects who wanted some descendant of Tipu Sultan to be appointed the rule of Mysore by the British. Chairman, Mass Communication, Prof Shafey Kidwai drew parallel between Sir Syed and Tipu Sultan. Prof. N.A.K. Durrani, Senior Faculty of Mass Communication who hails from Mysore highlighted many aspects of the personality of Tipu Sultan.
Ayesha Samdani, Mina Mahmood, Sarah, Nida Fatima presented papers. Director, ACN Group of Institutions, Dr. Javed Akhtar welcomed. The programme was conducted by Dr. Sahriq Aquil, Incharge, University Health Service. Mr. Masoor Ilahi proposed a vote of thanks.