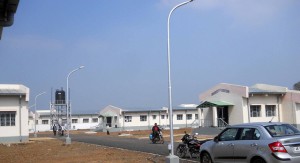 Murshidabad: The President of India, Mr. Pranab Mukherjee inaugurated the Aligarh Muslim University Murshidabad Centre's campus in Jangipur, West Bengal on February 20.
Speaking at the occasion, the President said: "Education is the only trusted tool for empowerment and it alone helps people to build a respectable career and character", said the President of India, Shri Pranab Mukherjee today at Murshidabad in West Bengal. He was addressing at a programme after inaugurating the newly constructed campus of the AMU Murshidabad Centre.
Mukherjee said that knowledge is power and it brings all kinds of social, economic and political empowerment to the people. He said that he had a dream of bringing AMU to Murshidabad since he was first elected Member of Parliament from Murshidabad. He said that he had noticed students, especially Muslims students going in large numbers to AMU for higher studies. He said that finally his dream has come true with the establishment of this centre.
The new AMU campus is coming up in 288 Acre plot of land at Arihan in Murshidabad, under the Suti Police station.
A team of top university officials under the leadership of the Vice Chancellor, Lt. Gen. (Retd.) Zameer Uddin Shah were also present on the occasion.
Foundation stone for the Centre was laid in 2009 by the then Chief Minister Mr. Buddhadeb Bhattacharya. The campus is still not fully ready, but some of the buildings have been commissioned.
The Vice Chancellor said that he wanted local students to take admission at this centre in large numbers. He said that he wanted to establish a Polytechnic at this centre as soon as possible. He said that availability of increased funds was fore most need of the Centre to establish a health centre and a polytechnic. He also stressed the need for linking the two pieces of land on either side of the Farakka Barrage through a bridge.
The President of India in his address assured the Vice Chancellor that soon a bridge will be built near Farakka Barrage to link the two pieces of AMU Murshidabad Centre's land and a water purification plant will also be established in the centre to tackle the drinking water problem in the Centre. He said that expenditure on projects will be borne by the central government.