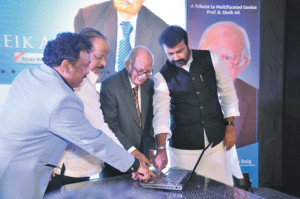 Bengaluru: Salaam Centre here has hoisted a website dedicated to Dr. Sheik Ali, former vice chancellor of Mangalore and Goa Universities. The website was launched by Minister for Information and Urban infrastructure, R. Roshan Baig on February 27. Nearly 72 books by Dr. Ali, noted historian and litterateur have been put on the website. It can be accessed at www.bsheikali.in
Sheik Ali, who is now 94, obtained Ph.Ds from Aligarh Muslim University and later from the University of London. He was professor of history at Mysore University and was later appointed the founding vice chancellor of Mangalore University. Later he was vice chancellor of Goa University. He has done extensive work on life and mission of Allama Shibli, Maulana Azad, Tipu Sultan, Allama Iqbal. Besides, he has set up a string of educational institutions leading to degree college in Mysore. He still actively participates in community activity.
Salaam Centre chairman Syed Hamid Mohsin said he had cherished the desire to digitize the writings of Sheik Ali since long so that people around the world could benefit from them.