Quitting his corporate job, Asif Khan Dehlvi today has taken to storytelling, to showcase and promote India's diversity and communal harmony.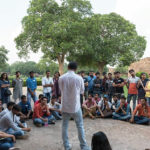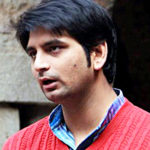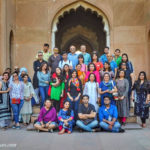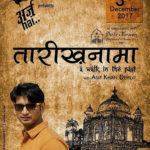 Even as India remains caught in a whirlpool of political turmoil and religious polarisation, it is heartening to see there are many people who remain committed to promoting harmonious coexistence among Indians. The purpose is simple yet noble: to uphold the values of 'Unity' and preserve 'Diversity' among people of the country.
Meet one such person, Asif Khan Dehlvi, a resident of Delhi who took to storytelling as a means of bringing back the glorious past of peaceful living and the Hindu-Muslim co-existence in the country through his narratives in Urdu and Hindi. Indian history, its cultural heritage and the tradition of tolerance are the prime motifs that Dehlvi tries to bring out through his narratives. In the course of storytelling, he pours his passion into  weaving threads of cordiality among people.
Delhi Karavan
Dehlvi took to storytelling in 2011 when he left his corporate job after feeling discontented with his professional life and began 'storytelling' as a new venture for his career. Over the next two years, he focussed on honing his skills and in 2013 he founded 'Delhi Karavan'. After the venture achieved success in Delhi, he performed a number of times in Delhi over the next four years. In 2017, after the overwhelming success of 'Delhi Karavan', he founded and attended many programmes of re-telling the history, culture, and tradition of Rajasthan. In February 2018,, he founded 'Calcutta Karavan', managed and curated by Suparna Deb, with the same subject matter.
Rejuvenating the Past Glorious Days
While speaking with TwoCircles.Net, Delhvi explained why he changed his career path. "The job I was doing was not actually for me. I felt I could do something better, something that encouraged a latent fascination of rejuvenating the past glorious days of the country, its culture and religious tolerance towards other religions through my narratives."
Talking about the various subjects he picks up for his storytelling, Dehlvi said he chooses specific portions of the history and narrates how people had lived peacefully together with the fellow Hindu-Muslims and absorbed each other's culture. To him, re-telling the past is a way to entertain listeners, like bedtime stories usually heard from grandparents, they often contain lessons. The listeners, he says, are interested in seeing the history of the two hundred years before them through his words.
He stresses that his narratives have a great impact on nation-building in a new way. Regarding this, he said, "since re-telling the past is all about life, people, religion, peaceful co-existence, culture, about communal harmony and staying together, people gain knowledge of the past on how Hindus and Muslims had lived together and celebrated festivals together. It enables them to differentiate the truth from whatever had been imposed in the name of history against each other and there is a new feeling for each other that will enable them to live peacefully".
Initial Difficulties
In the beginning, however, Dehlvi faced a series of difficulties. When he started this profession, he had to go through many harassments, humiliations and awkward and trivial questions from the audience. In his words, " After the storytelling, I always try to keep a question-answer session. In the initial days, I faced uncomfortable situations with meaningless questions posed by right-wing-minded people in order to divert the topic and create a mess. But, now it is normal for me and I am habituated to handling these situations".
In the course of his acts, Dehlvi has lived true to the name 'Caravan' and righteously performed the role of the caravan by ferrying ideas of retaining cultural heritage, reverence for one's country's historical treasure and taking pride in putting forth the essence of indigenousness.
(Extracted from twocircles.net)
(For more details, see delhikaravan.com and   asifkhandehlvi.com  Asif Khan can be reached at   [email protected])