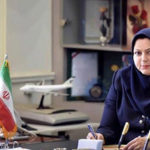 Tehran: Iran has appointed a woman CEO to lead its national airline for the first time since it was established in the 1940s. 
The state-owned Iran Daily reported on July 12 that the transport minister appointed Farzaneh Sharafbafi, 44, who holds a PhD in aerospace engineering and previously served on the board of Iran Air. 
Iran is in the process of revamping its ageing passenger fleet following the 2015 nuclear deal with world powers, which lifted international sanctions. It has struck billion-dollar deals with Boeing and Airbus to buy scores of passenger planes.  The administration of President Hassan Rouhani, a relative moderate, who was re-elected earlier this year, has appointed women to a number of management posts, breaking with tradition in the Islamic republic.