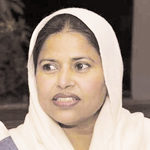 "Hard work paid off," says Mohna Ansari, the only woman in the five-member NHRC commission, which has tackled issues such as security force excesses and gender discrimination.
In November 2014, Mohna Ansari received a telephone call from the office of Nepal's prime minister. They asked her to join the Nepal Human Rights Commission (NHRC), the government body, tasked with safeguarding human rights. The lawyer from a lower middle-class Muslim family in the southern city of Nepalgunj says: "I never believed that I would get this. In my family, nobody is in politics". "Hard work paid off," says the 39-year-old, the only woman in the five-member commission, which has tackled issues such as security force excesses and gender discrimination. Ansari is active on social media, where she often raises issues facing ordinary Nepalese""from women's and indigenous rights to delays in post-earthquake reconstruction. Before joining the NHRC, Ansari was a commissioner at the National Women's Commission (NWC) for four years, her first major government assignment. "I raised a lot of issues, especially violence against women, and advocated for a gender bill to end discriminatory practices," Ansari explains. But the journey to where she is now hasn't been easy, and the odds have long been stacked against her. Her family's sole source of income was her father's carpentry shop. However, Ansari explains that her parents were illiterate, so they wanted their children to be educated and to have careers in different sectors. In Nepal, many Muslim parents generally don't want to send their children for formal education at secular institutions, Ansari explains. However, she went to a co-ed government school. Still, she wasn't given the same opportunities as her brothers as her family. "My brothers went to English medium boarding school, and I went to a government school," Ansari says. "But I am happy they sent me to school where I got my education""not only Islamic, but also modern education." Financial issues plagued her college education and Ansari was forced to drop out after her first year. She returned three years later upon getting a scholarship. During her studies, she supported herself by teaching in schools and working as a private tutor. She also found time to write articles about issues affecting women and children for local newspapers. Ansari became the first in her family to graduate and the first woman law graduate from the Muslim community, which forms just under five percent of Nepal's population and is typically poor with low levels of education. In a small town like Nepalgunj, her legal career struggled to take off. Most of her clients were poor, vulnerable women.
"My family supported me all along," Ansari says, describing how she went on to work for leading global NGOs. Her work has not gone unnoticed. In 2012, Ansari was honoured by the president with the Suprabal Jana Sewa Shree award, a presidential medal for public service. That same year, she received the Nava Devi Award, which recognises Nepal's female role models and achievers. She has become a source of pride for many in the Muslim community.
"I never imagined that a person from my background would go on to work in policy-level work representing all women," she says. And, she believes, the Muslim community is "slowly coming up".