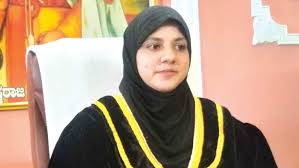 For the first time in its 158-year history, the Mysuru Municipal Corporation has a Muslim woman mayor Tasneem. According to the Indian Express, Tasneem is also the youngest ever mayor of the city. She is 31.
Tasneem has lived all her life in Mysuru's Meena Bazaar area, and has been the corporator for the area since 2013. She replaced her uncle, three-time corporator Alhaj Naseeruddin Babu, as the Congress candidate from the ward after it was earmarked for women.
In 2018, she contested again on a Janata Dal (Secular) ticket and won.
Tasneem told the Indian Express that she is making efforts to ensure that Mysuru retains its "cleanest city" tag. "Even though we ended up third on the list of cleanest cities in the 2019 rankings, we are now working towards securing the coveted top spot on the list. With the dedicated service of our pourakarmikas, officers across all levels and with the help of our residents, we are confident of winning the 'Cleanest City' tag this time. This is my priority as of now."
Born as the third child to tailor Munnavar Pasha and homemaker Tahseen Banu, Tasneem is a former student of Maharani's Science College for Women in Mysore. The youngest Mayor of Mysore is a mother to two Syeda Rumani, a Class 8 student, and Syed Uwaiz, a Class 2 student. Her husband Syed Samiulla is a hand-embroidery worker who runs a business establishment in Meena Bazaar.