M. A. K. Tayab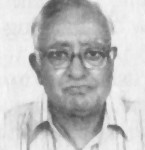 By A Staff Writer
Bengaluru: Mr. Mohd Abdul Karim Tayab, retired IAS officer passed away on December 17. He was 79. Tayab sab headed the Centre for Contemporary Studies (CCS) for the last ten years which promoted a modern interpretation of the Islam in the light of books authored by several Muslim writers based in the West (due to lack of freedom of expression and interpretation in the Islamic world) who mainly wrote books in English and French. He had built up a library and organized discussions on modern issues every Sunday for the last one decade.
Tayab did his MA in Economics from Mysore University. He joined the Tamil Nadu cadre of the Indian Administrative Service and retired in 1996. Following his retirement he took up residence in Bengaluru and devoted himself to the study of modern as well as traditional literature. He never hankered for positions in official committees and panels following his retirement as most of the service personnel are accustomed to do. A voracious reader and thinker, Tayab sab was a man of mild and amiable disposition and believed that several contemporary Islamic movements had failed to interpret the Quranic teachings to promote justice, love, respect for diversity, compassion, mercy, beneficence, values that were central to the Quran and Islam. He attributed the current plight of Muslims to the orthodoxy of the religious clerics and stagnated thought process within Islam and the Muslim world. He collected a clutch of intellectuals, writers, academics, and thinkers who engaged themselves in study of modern Islamic writers and cultivated a habit of thinking on rational and moral lines rather than looking for halaal and haraam on conventional lines. The CCS brought out books and booklets on topics like astronomical observation for Moonsighting, a shortened version of Sachar Committee Report, Riba, Usury and Quranic Ethics etc.
He was buried at the Tannery Road Graveyard on December 19 after funeral prayers held at Hajee Sir Ismail Sait Mosque.