The two Babukhan brothers have empowered thousands of youth from minority communities in Andhra Pradesh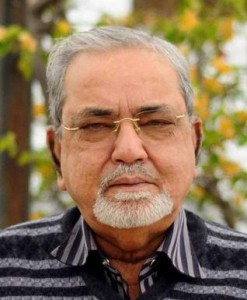 By A Staff Writer
Hyderabad: Noted social worker and former Minister in Telegu Desam Government, Mr. Basheerduddin Babukhan died on September 11. Babukhan with his brother Ghiasuddin Babukhan set up the Hyderabad Zakat Charitable Trust some 15 years ago and helped virtually thousands Muslims boys and girls all through Andhra Pradesh to receive modern educational and professional degrees.
He was 72 and is survived by a son and two daughters. He was buried the same evening at the graveyard on Road No. 12 of Banjara Hills. He was ailing for some time.
Extremely suave and polished, Basheeruddin Babukhan spent his last two decades in empowering Muslims and minorities while being in and out of Government. The two brothers extensively toured the districts of Andhra Pradesh and took their work of helping the youth to every nook and corner of the State.
Born in an aristocratic family, Babukhan had inherited construction business from his father Khan Bahadur Abdul Karim Babukhan. His father had built and donated the Gandhi Bhavan near Moazzamjahi Market and donated it to Indian National Congress. Basheeruddin Babukhan joined the Telugu Desam party and was twice elected to the Andhra Pradesh Assembly 1985 and 1994 and was appointed Minister for Higher Education, Heavy Industries, Tourism and Minorities in the cabinets of N. T. Rama Rao and N. Chandrabubu Naidu.
He however quit the Telugu Desam Ministry when the Party decided to support the BJP government at the Centre.
Community's cause was always dear to him and he correctly identified the malaise of lack of modern education and skills among Muslims as the cause for their plight and plunged headlong in uplifting the community through all means.
A successful builder, his firm built several landmark buildings in post-Independence Hyderabad, one among which is the Babukhan Estate on Basheer Bagh.