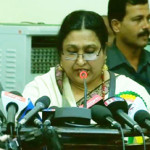 By A Staff Writer
Bengaluru: Karnataka State Urdu Academy chairperson Fauzia Chaudhury passed away on February 24, while speaking at a literary gathering at the Urdu Academy. She was 52 and leaves behind her husband and three daughters. Fauzia was presiding over a programme called Haasil e Mutaala (Book Review) at the Academy in Kannada Bhavan on J. C. Road. She collapsed while holding the mike and was taken to the nearby Heart Research Institute where she was declared 'brought dead'.
Fauzia was appointed chairperson of the Academy in June 2014 and worked for injecting dynamism into the cause of Urdu with great zeal. She was instrumental in introducing a Mobile Urdu Library (Gashti Kutubkhana) in the State in September last year.
A doctorate in Urdu, Fauzia hailed from a very respectable and religious family in Gulbarga. She was a lecturer in Urdu in several Government First Grade Colleges for several years and resigned after taking over the post in Urdu Academy.
A courageous woman, she minced no words in expressing all that she had conviction about. She spoke about the freedom and rights that Islam and the Prophet (Pbuh) had conferred upon women, at a function organized by Bihar State Urdu Academy at Patna last month. She had actually referred to Jeffrey Lang's book "Losing My Religion: A Call for Help" wherein the author (Lang) had lamented the subordination of women in contemporary Islam and Muslim societies. The extremist fringe of the ulema took up her lampooning without reference to the book and the Urdu Press abetted the campaign. The Haasil e Mutaala on February 24 had been organized to present a review of the Urdu book Rawalpindi 1951.
She was laid to rest at the Khuddus Sab Graveyard in Bengaluru cantonment area.