Md. Farooq Nashtar has been elected the new secretary of the Idara Adab Islami hind, an Urdu literary organisation for the Karnataka State unit. The post had fallen vacant after the demise of Mr. Arshad Siddique in November. The election was held on November 22. Rich tributes were paid to the services of late Mr. Siddiqui.
Two Muslims Writers selected for Sahitya Akademi Award 2015
By Raqib Hameed Naik
Two Muslim writers have been selected among others representing 23 Indian languages for this year's Sahitya Akademi award. Bashir Bhaderwahi for his Kashmiri critique of "Jamis ta Kasheeri Manz Kashir Natia Adabuk Tawareekh" and Shamim Tariq for his Urdu critique of "Tasawwuf Aur Bhakti (Tanqeedi aur Taqabuli Mutalea)" are among those honoured with Sahitya Akademi award 2015.
Shamim Tariq is a noted Urdu poet, critic and columnist from Mumbai who has significant contributions and achievements to his credit, while Bashir Bhaderwahi is a renowned Kashmiri poet and writer. On December 17, Sahitya Akademi had announced its annual awards in 23 languages. Six books of short stories, six poetry books, four novels and two books each of essays, criticism and plays and one of memoirs have won the award.
(twocircles.net)
Dr. Sayed Afzal Peerzade, Professor of Economics and author of several books, passed away in Vijaypura (formerly Bijapur) after a brief illness. He was the Head of the Department of Economics, Karnataka State Women' s University, Bijapur and Dean, Faculty of Social Sciences. He belonged to a highly revered Peeran family of the city.
He also worked as a Consultant, National Institute of Public Finance and Policy at New Delhi and as an Academic Counselor, IGNOU. He authored several books including Expenditure Tax in India: Feasibility Problems and Prospects; Islamic Public Finance and Policy; Economics of Taxation; and Economic Thought in Islam. Besides, he edited Readings in Islamic Fiscal Policy and translated Islamic Public Economics. He had to his credit several research papers published in peer-reviewed journals. He was also a member of Indian Association for Women's Studies, Mumbai; Council for Teacher Education, Bhopal; and Society of Labour Economics, New Delhi.
Bebyda Khatun Receives National Anganwadi Award
By Zaidul Haque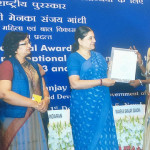 Delhi: Bebyda Khatun, an Anganwadi worker, received the National Award for the year 2011-12 from the Union Minister for Women and Child Development, Maneka Gandhi, at Vigyan Bhawan in Delhi. Khatun, became the first Muslim from West Bengal to receive such a prestigious award, along with a reward of Rs 25,000. Maneka Gandhi presented the awards to 118 Anganwadi Workers from different States in the country and highlighted the importance of Anganwadi workers. Congratulating the winners and lauding their dedication, Gandhi said that Anganwadi workers are the most important functionary at the grass root level for delivery of services under the Ministry's flagship programme of Integrated Child Development Services.
(twocircles.net)