Sajid Javed is Minister for Communities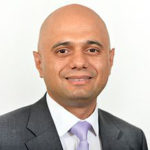 London: New British Prime Minister Ms. Teressa May has appointed Sajid Javed as the Minister of State for Communities and Municipal Administration in her cabinet. The MP of Pakistani origin earlier held the portfolio of Commerce in the previous ministry headed by David Cameroon. Sajid had opposed Britain's continuance in the Europe Union, but he had voted for remaining with the EU in the referendum held last month. Javed was an investor Banker before he was elected an MP.
Mahatma Gandhi Prize for Non Violent Peace

Gyeonggi (South Korea):Man Hee Lee, Chairman of Heavenly Culture, World Peace, Restoration of Light (HWPL) was honored with the "Mahatma Gandhi Prize for Non-Violent Peace" on July 19th at the Peace Palace in Gyeonggi, Korea. Dr. PrasannaKumar Patasani, Chairman of Mahatma M.K. Gandhi Foundation for Nonviolent Peace and Secretary-General, Dr. Jyoti Mohapatra were present at the award ceremony. "The greatest peace prize is peace on Earth and this is the legacy that we should leave to our future generations. This will become the peace prize that will pave the way to the peaceful lives of humanity. I would like to accept this prize as a lesson that keeps me going for the work of peace," said Chairman Lee during his acceptance speech.