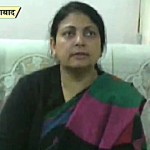 Parveen Amanullah Joins AAP: Bihar Minister for Social Welfare Parveen Amanullah quit the Nitish Kumar Government on February 4 and joined the Aam Aadmi Party (AAP). She is daughter of former MP and prominent Muslim politician Syed Shahabuddin and is wife of Mr. Afzal Amanullah, a civil service officer.
Takes charge: Mr Faiyaz Shaharyar took over as the new Director General of the All India Radio on February 3. A senior officer of the Indian Broadcasting Service, Faiyaz was earlier additional director general of the AIR. He took the new office following demission of the post by former DG Venkata Sorulu.


Appointed VC: Prof. M. Ishtiaq of Department of Geography, Jamia Millia Islamia has been appointed as the Vice-Chancellor of Magadh University at Gaya, Bihar.
Prof. Ishtiaq has more than 32 years of teaching experience and has written a number of books. He has also been an active member of various Societies and Associations in his field and has also conducted several projects. Prof Ishtiaq also held several key administrative positions in Jamia Millia Islamia.


Elected to Rajya Sabha: Ahmed Hassan Imran, noted journalist and editor of Bengali daily 'Kolam' was elected to the Rajya Sabha from West Bengal after being nominated by Trinamool Congress. Imran, a student leader for nearly three decades, has been bringing out Kolam for as many decades from Kolkata. Kolam valiantly highlighted the sufferings and victimization of Bengali speaking population in the wake of Assam agitation in early 1980s and took up several issues pertaining to disadvantaged people during his journalistic career. He joined the Trinamool Congress soon after Mamata Banerjee emerged on the power firmament of West Bengal in 2011 after routing the Marxists who ruled the state for 37 years. He turned his weekly into a Daily soon thereafter with Mamata launching the inaugural issue. It almost became a mouthpiece of the Trinamool. He was one among the five members to be elected to the Rajya Sabha from West Bengal. Though he ran short of four votes, cross voting in the Leftist block ensured that he sailed into the Upper House.
Maulana Syed Md. Ibrahim and K. N. Noor Basha, members of the Karnataka Waqf Board were removed from the 11-member executive committee of the Board following Gazette notification in second week of February. This followed the January 8 directive from the Karnataka High Court following a PIL from Karnataka Waqf Protection Joint Action Committee. The Court had directed the Board to expel the two members as their nomination was not carried out as per the due process of law. The executive Committee has now been reduced to six members. Earlier, two members viz; Muhammad Kunhi Yenepoya from Mangalore and Shafi Saadi had resigned from the membership of the executive committee.
Prof. Hakim Syed Khaleefatullah, former president of Central Council of Indian Medicine from Chennai was conferred the Padma Shri award in recognition by the Government of India. Khaleefatullah has done pioneering work in popularizing Unani medicine in state of Tamil Nadu and played key role in setting up the Government Unani Medical College in Chennai. He also founded the Niamath Science Academy in Chennai.
Sheikhul Hind Medical College Opened: Sheikhul Hind Medical College, named after freedom fighter Maulana Mahmoodul Hassan was opened in Saharanpur by Uttar Pradesh Chief Minister Mr. Akhilesh Singh on February 11 here in the presence of Jamiatul Ulema Hind leader Maulana Arshad Madani. The out patient department of the Government Medical College immediately started functioning following the commissioning of the college.
Syed Peerpasha Quadri, senior reporter, Daily Salar; Afshan Yasmeen from The Hindu; and Rauf Ahmed, ETV Urdu are among the recipients of the Karnataka Media Academy Award for the year 2012-13. The awards were given to 30 journalists from the State. The announcement to this effect was made by Mr. M. A. Ponnappa, President of the Academy.
Woman Appointed Editor of Saudi daily



Jeddah: Somayya Jabarti, a woman journalist has been appointed the editor Saudi Gazette, an English daily published from here. She was earlier a deputy editor of the same paper. Her appointment was announced by Khaled al-Maeena, the departing editor and noted Saudi journalist.
"There's a crack that has been made in the glass ceiling. And I'm hoping it will be made into a door," Jabarti said after starting her new job, according to quotes carried by Al Arabiya News.
She added: "Being the first Saudi woman [editor-in-chief] is going to be double the responsibility "¦ One's actions will reflect upon my fellow Saudi women."
According to Jabarti, of around 20 Saudi Gazettereporters only three are male but the paper's senior editorial positions are mainly held by men.
Khaled al-Maeena will now act as Editor in Large.