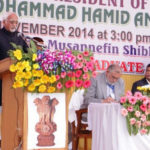 The Darul Musannefin Shibli Academy, in its annual management committee meeting, elected Mohammad Hamid Ansari, the former Vice-President of India, as its President. Hamid Ansari agreed to serve Shibli Academy and said, "I deem it a great honour to be invited by the Managing Committee of the Academy to assume the high office of its President and it shall be my endeavour to assist the Committee in its work of continuing the good work that the Academy and its scholars have done over decades." Hamid Ansari has served as Vice-President of India from August 2007 till August 2017.
The Darul Musannefin Shibli Academy was conceived by Maulana Shibli Nomani and established by his disciples headed by Maulana Hamiduddin Farahi and Maulana Syed Sulaiman Nadvi on November 21, 1914, three days after his death with the objectives to nurture and sustain a body of scholarly authors, to provide a congenial environment for scholars to create, compile and translate literary works of high scholastic and historical value and to undertake printing and publication of the literary works of the Academy.
"‹(Source: twocircles.net)"‹
.