Azerbaijani artist writes the holy Quran in gold on transparent black silk sheets.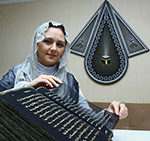 Baku: Tunzale Memmedzade, an artist based in Azerbaijan, spent three years, painstakingly transcribing the holy Quran on sheets of transparent black silk creating a beautifully crafted religious text that demonstrates both devotion and patience. "Memmedzade embarked on the project after learning that the Quran had never previously been transcribed on silk. She set to work on 11.4″ x 13″ sheets of delicate silk, using a total of 164 feet for the finished Quran", according to MyModernMet.com. "A little more than three pints of silver and gold ink flow across the pages, with the text based on the version released from the Diyanet, the Turkish Presidency of Religious Affairs", the portal said in a report.
Calligraphy, an art that has always been a part of Islamic culture, seems to take on a surreal form in the hands of Memmedzade. "The lavish calligraphy reminds us of the incredible tradition of Islamic art, something which is also being celebrated at the Smithsonian Museum's Sackler Gallery", the report added.