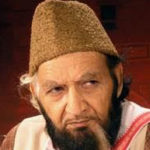 Bekal Utsahi, famous Urdu-Hindi poet from Uttar Pradesh, passed away in a Delhi hospital on December 3, due to brain heamorrage. He was nominated to Rajya Sabha in 1986 by the former Congress Government. He was 88. Utsahi
was conferred the Padma Shri and Yash Bharthi Awards. He was born in Balrampur town in Uttar Pradesh in 1928.
He was jailed several times by the former British Government for his poetry against the colonial administration.
His poetry collections include Vijay Bugle Qaumi Geet (1952); Bekal Rasiya (1953); Naghma wo Tarannum, Nishat e Zindgi, Noor e Yazdi, Halke Bagiya, Mahke Geet; Purviaya; Komal
Mukhade Bekal Geet; Apni Dharti Chand ka Darpan etc. He attempted a mix of Urdu-Hindi languages in his poetry.