TRIBUTE – Dominique Sila-Khan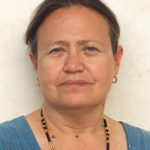 Noted scholar known for her commitment to documenting and celebrating religious pluralism in South Asia, Dominique Sila-Khan, passed away in Delhi last month. Of French Jewish background, Khan had settled down in Jaipur, where she lived with her husband, Sattar Khan, a Rajasthani Muslim. Her personal history, transcending religious boundaries, was reflected in her prolific writing—scores of academic articles as well as several books, mainly on religious traditions, spaces and communities in South Asia that transcend neat categorization on religious lines as narrowly and conventionally conceived—or what are sometimes called 'syncretic' or 'liminal'. She wrote particularly extensively on the Nizari Ismailis, a Shia sect, and some of its offshoots. Her writings include "Crossing the Threshold: Understanding Religious Identities in South Asia", "Conversions and Shifting Identities: Ramdev Pir and the Ismailis in Rajasthan", and "Sacred Kerala: A Spiritual Pilgrimage."
Khan was passionate about her work, travelling extensively in various parts of India to discover and highlight through her writings, religious traditions that serve to bring together people from different religious backgrounds—which is something that she very well exemplified in her own life.