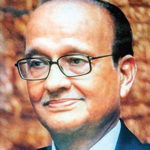 In his passing on 22nd November, Mr. Habibullah Badsha leaves behind a vacuum in the legal fraternity and in the Muslim community in Chennai and Tamil Nadu.
Born into a prominent family in Chennai, Mr. Badsha did his schooling in Chennai, going on to doing his Master's in Islamic History. He then finished Law from the University of Madras before enrolling as a member of the Madras Bar. He had a long and illustrious career as an advocate and legal luminary, known for his professional excellence. He was very well respected by his colleagues, juniors, legal adversaries and other members of the legal fraternity and was regarded as the doyen of the Madras Bar. He also served as the Advocate General for the state of Tamil Nadu. His legal engagements covered a wide area of interests, right from being a guide and consultant to the Shah Bano case in the 80s to arguing against Subramanian Swamy when he challenged the Shariah Finance scheme of the Kerala Government in the Kochi High Court. He also was the advisor to Jamaat e Islami Hind when it faced a ban during the Emergency in 1975 and after the Babri Masjid demolition in 1992.
As recognition of his excellence, he was offered judgeship to the Madras High Court at the age of 37 which he turned down. He even turned down an elevation to the Supreme Court as a Judge in 1986. Outside of his legal accomplishments, he was also a well known social worker and activist. He played key roles in service and charitable organizations including the Anjuman Himayath e Islam, MEASI, JBAS College, Azeez Badsha Charities etc. He was also the Founder Director of Apollo Hospitals in Chennai.
Remembered for his mild demeanor, gentleness, wisdom and concern for all, Mr. Badsha served as an inspiration for many young lawyers and other professionals. He is survived by his wife Shamsia Badsha, his son A. J. Suhail, a lawyer and businessman and two daughters, Humeira Badsha, a gyneacologist and Maimoona Badsha, an advocate.