New House is dominated by Vokkaligas and Lingayaths
By A Staff Writer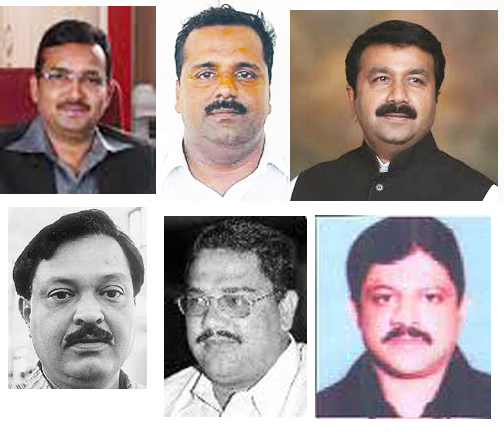 Bangalore: The 16th Legislative Assembly in Karnataka has eleven Muslim members, two more than the last Assembly.
Nine of them have been elected on Congress ticket while two from the Janata Dal Secular got elected by trouncing their Congress rivals.
The new Muslim MLAs are N. A. Harris, Shantinagar; R. Roshan Baig, Shivajinagar; B. Z. Zameer Ahmed Khan, Chamrajpet (all three constituencies are part of Bangalore city); Dr. Rafeeq Ahmed, Tumkur; Maqbool Baghvan, Bijapur; Qamarul Islam, Gulbarga North; U. T. Khader, Mangalore North; Mohiudeen Bava, Mangalore South; Firoz Nooruddin Sait, Belgaum North; Tanveer Sait, Narasimharaja (Mysore city); Md. Iqbal Ansari, Gangavathi. Except for Zameer Khan and Iqbal Ansari who were elected on Janata Dal Secular tickets, others belong to Congress.
Former Union Minister C. M. Ibrahim who had joined the Congress and was given a ticket from Bhadravati had the humiliation of being placed third. Similar was the fate of Naseer Ahmed who was placed third in Kolar city. Raheem Khan, the sitting Congress MLA from Bidar was defeated by a narrow margin from formidable Karnataka Janata Paksha candidate and Cooperative movement leader Gurupadappa Nagamarpalli. About Raheem Khan, a senior journalist working with a national daily in Bidar recently remarked in the following words while speaking at a seminar in Bangalore: "I know he is a very honest politician who did not make a single rupee through any dishonest means. He lost by 1,375 votes. Fifty per cent of the Muslim voters in the walled city of Bidar did not turn up at the voting booth. And of the rest who turned up, fifty per cent voted for his rivals who paid them Rs. 500 each. These very Muslims who sold their votes for such a cheap price, were greatly exercised when the local Deputy Commissioner, who happens to be a Muslim, was applied with a tilak on his forehead at a public function. Muslims should assess where their priorities lie and what should receive their attention."
Veteran leader Jaffer Sharief who has staked his claim for fighting Lok Sabha election from Bangalore Central much ahead of the term of the current house is over, suffered the double whammy of seeing the defeat of his grandson C. K. Abdul Rahman Sharief from Hebbal constitutency in Bangalore and his son in law Syed Yaseen from Raichur. Rahman Sharief was a greenhorn in politics and no one had seen him working with people while Syed Yasin who had won the Raichur seat in 2008 had failed to nurture the constituency. Rahman Sharief and former ace cop Abdul Azeem together mutually divided the considerable Muslim votes in Hebbal to allow the BJP candidate to take the trophy.
Maqbool Baghvan, Dr. Rafeeq Ahmed and Mohidin Bava are first time MLAs. Bava is though educated only upto SSLC, he is into mining business and belongs to a rich family. His victory is a surprise one. Iqbal Ansari had a previous term although he could not retain his seat in 2008. Dr. Rafeeq is son in law of Mr. Shafi Ahmed, former MLA from Tumkur who had won the seat twice. Rafeeq is vice chairman of the HMS Education Society, Tumkur which was founded and is headed by his father in law Shafi Ahmed.
Roshan Baig has won for the fifth time while Harris, the riches MLA (as per declaration of assets) has won the seat for the second time although there were doubts about his retaining it. Zameer Khan has won the Chamrajpet seat four times. He defeated Congress candidate G. Mohammad Bava, another former cop, with a convincing margin. Tanveer Sait, son of legendary Congress leader Azeez Sait could save his seat with a very slender margin in a keen tussle with Social Democratic Party of India candidate Abdul Majid Khan. He cannot afford to be complacent any more in nursing the constituency which has huge number of poverty ridden and jobless Muslim voters. Miner Abdul Wahab, a big businessman who was pitted from Vijayanagar was defeated by Anand Singh, a BJP candidate. Sangh had initially decided to fight as an independent. It is rather bizarre as Congress registered exceptionally sound victories in several other seats of Bellary district.
Naseemuddin Patel, brother of former JDS President Merajuddin Patel was defeated by a margin of 24,000 votes by the Congress party candidate. Even Shiggaon, a seat with considerable Muslim voters, could not come the way of Azam Peer Shahkhadri who had represented it for one term. Bhatkal seat was lost by JDS candidate Inayatullah Shabandari to an independent Subba Vaidya by a margin of around 10,000 votes. It was a tough fight and he stands a good chance in future.
Muslim Representation remains Dismal
Uppercastes dominate
The miniscule number of Muslim MLAs represent only 4.9% while Muslim constitute 12% of the State's population. The largest number of MLAs belong to the Vokkaliga community who represent 53 constituencies or 23% of the house. Vokkaligas are as numerous as Muslims in the state. Lingayaths who make up nearly 16% of the population and used to corner the largest number of seats hitherto have 50 of their men in the new Assembly which makes up for 22% seats of the House. It seems the drastic decline in Lingayath could be attributed to the division of community's votes between candidates belonging to BJP and the Yeddyurappa's KJP. Christians make up four per cent of the State's population but could elect merely two members, same as in the last Assembly. Brahmins representing three per cent of the population have 11 MLAs. Jains representing less than half per cent of the population have three members.
It however needs to be noted that Lingayaths and Vokkaligas are concentrated in specific regions, Lingayaths in the northern Karnataka and Vokkaligas in the southern Old Mysore districts which lends them numerical advantage both in terms of claiming tickets from political parties as well as in getting elected. Muslim are demographically thinly spread, found in all constituencies but in smaller numbers.