Farooq's Ashiana has become a hub of activity. Old Aged Homes were 'no go zone' for the community so far. But need is increasingly felt not to be dismissive about the problem which afflicts the community in equal measure.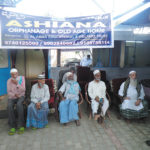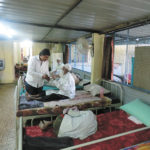 By Maqbool Ahmed Siraj
Shabana is now 80. Being issueless, she had adopted a girl who is now manager in a major IT company in Bengaluru. After being widowed, Shabana took care of the adopted girl, sent her to good schools, lavished all the care on her. But as she grew aware of her background, she (the adopted daughter) began mistreating her adoptive mother. One day she kicked her out of her home. A neighbor took care of her for a few months.

Rasheed bhai (all names changed) is also on the wrong side of eighty. He ran a provision store in Shivajinagar in Bengaluru. He was son of an imam. Not able to run his shop and bad debts mounting, he had to shut down his business. Not having any children, he had helped his brother's son to come up in life. All of them migrated overseas, leaving him alone and helpless in his one-room house.

Abdul Sattar remained unmarried. He also ran some petty business which ran into trouble. He was virtually on the road.

Qamarunnisa is also nearing 80. She was living in Shamanna Garden. Having been issueless and widowed early, she had taken to begging. Her feet would not support walking. She would drag on the footpaths and sometime across the road dangerously.
Pathetic tales
These and several other pathetic tales come from inmates of 'Ashiana', the old age home that has come up in the outskirts of Bengaluru. Founder Mohammed Farooq was an energetic young man engaged in several charitable activities. When cases of old people remaining without shelter started coming to him, he went looking for some old age home run by Muslims. To his dismay he found that though city of Bengaluru had several such homes, not one was being run by Muslims. This prompted him to set up one in 2011 in Kannamanglapalya, about 35 kms north of the city in a quiet suburb dotted with villas of the rich and the mighty.
Farooq discovered that impromptu charitable work could be easy. But not the institutional one which requires firm grounding. He dedicated an 80 x 80 sq. ft. plot of land that he owned in the village for the purpose, raised a shelter with four big halls, toilets and bathrooms and brought in all the furniture and accessories that such a facility would require.
Grim Realities of Age
Being left uncared and lonely in old age is a growing problem in our cities these days. Nuclear families are becoming the norm. Misery gets aggravated when children migrate overseas or do not like to stay with aged parents. Those with abundant resources move to colonies with senior citizens homes where a retinue of personnel take care of their personal and health needs. A host of Vriddha Ashrams or 'Shelter for the Aged' have been set up by voluntary agencies belonging to other social groups on the lines of the lifestyles prescribed by their faith. But Muslims have nowhere to go as the issue is still a taboo for discussion. Of course, Islam enjoins taking good care of parents, especially when they reach the old age. But there are situations when individuals remain unmarried or do not beget children or get widowed early in life. Some way out must be thought off.
Tearful sagas roll out as one sits facing the inmates at Ashiana. Farooq has been working 24×7 for the last five years to help as many old and shelterless people as possible. Yet, the tide of requests has been ceaseless. People call him at the dead of the night to accommodate someone found on the footpath. According to him, his inmates include even wealthy widows who were shoved out of homes by the offspring who were eyeing their assets. Yet those women are not willing to press their claim of being cared through legal measures. A widow from an elite family told this scribe : "Yes of course, my children are well off, they will even inherit my estate, but if they are not willing to have me in their midst, I wish them well and would not like to mess up their party of life. Ashiana provides me the company of peers of my age. I am determined to spend my remaining years under its benign care."
Yet another old inmate, slightly mentally disoriented, reacts when one signals him of taking away Nurullah, a caretaker from the home. 'You dare not do that, his services are indispensable', he warns.
Silent Sufferers
Naseema is almost 95. She used to be the first wife of a village patel (chief). Having been issueless, the patel married another woman who bore her children. After their father's demise she was abandoned by the patel's offspring from the second wife. Someone brought her here. By Allah's grace she was even sponsored for the Hajj pilgrimage by a kind soul.
Sahira bi is from Assam who had been brought here for treatment of burns she had sustained while sitting around a winter bonfire. A doctor from Ramaiah Hospital had adopted her and took care for five years. But not able to manage, he left her under the care of Ashiana. Nemath Miyan does not know where he comes from. Reduced to a mere skeleton, he has shrunk to a small pile. He cannot even walk to the toilet or the dining table. He has to be fed at the bed.
Farooq has seen all this and more during the last six years he has set up the Home. Even those who criticized him in the beginning are now convinced that one cannot be dismissive about the issues of old age in the contemporary society. The larger society must think of them and come up with facility that can take care of those being consigned to footpaths for want of a shelter for them where their needs are met and are allowed to live and die with dignity.
Farooq's Ashiana has become a hub of activity. Villagers are supplied water from the borewell sunk at the facility and some even receive ration packets during Ramazan. n
(Those who would like to a visit the Ashiana or help the inmates may contact him: Mohammed Farooq, Al-Aman Education and Welfare Trust, Ph: 97401-25500, 99649-09600.)