By Hazrath Inayath Khan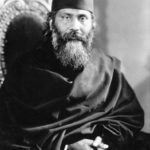 Seek the Good in Man
Those people who glorify God for His beauty, should see the beauty of God in all His creatures. It is of no use to praise God for His beauty, and then to criticize and find faults in His creation. For one's life to be prayerful, one must always seek the good in man. Even the worst man has a good spot, and this should be sought and not the bad points. We can learn virtue even from the greatest sinner, if we consider him as a teacher. There is a tradition that Moses asked Satan to tell him the secret of life. 
In Communion with God
There are many virtues, but there is one principal virtue. Every moment passed outside the presence of God is sin, and every moment in His presence is virtue. The whole object of the Sufi, after learning this way of communicating is to arrive at a stage where every moment of our life passes in communion with God, and where our every action is done as if God were before us. Is that within everyone's reach? We are meant to be so. Just think of a person who is in love: when he eats or drinks, whatever he does, the image of the beloved is there. In the same way, when the love of God has come, it is natural to think of God in everything we do.