London: A record 15 Muslim MPs were elected to the British Parliament in the general election held on June 7. The previous house had 13 Muslim members. Of the 13, twelve were reelected. Three new faces have been added. Of the 15, twelve belong to Labour Party which will be the major Opposition party in the house. The other three have been elected on ticket of Conservative Party which is in the process of forming the government. The Liberal Democratic Party is yet to have its first Muslim MP. The only Muslim MP from Scottish National Party in the outgoing house, Tasmina Ahmed-Sheikh lost her Glasgow seat.
The MPs elected in 2017 are: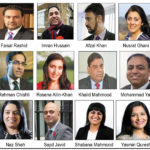 1- Afzal Khan (Labour) "" Manchester Gorton
2- Faisal Rashid (Labour) "" Warrington South
3- Imran Hussain (Labour) "" Bradford East
4- Khalid Mahmood (Labour) "" Birmingham Perry Barr
5- Mohammad Yasin (Labour) "" Bedford
6- Naz Shah (Labour) "" Bradford West
7- Nusrat Ghani (Conservative) "" Wealden
8- Rehman Chishti (Conservative) "" Gillingham and Rainham
9- Rosena Allin-Khan (Labour) "" Tooting
10- Rupa Huq (Labour) "" Ealing Central and Acton
11- Rushanara Ali (Labour) "" Bethnal Green and Bow
12- Sajid Javid (Conservative) "" Bromsgrove
13- Shabana Mahmood (Labour) "" Birmingham Ladywood
14- Tulip Siddiq (Labour) "" Hampstead and Kilburn
15- Yasmin Qureshi (Labour) "" Bolton South East.
Muslims comprise around five per cent of UK's population. The 12 MPs however constitute only two per cent of the house's total membership.
Similarly, twelve MPs in the new house are of Indian origin. Of these, 10 were reelected, while two are first-timers. International development secretary Priti Patel, 45 retained her Witham seat with a comfortable majority. She is of Ugandan-Gujarati heritage. Alok Sharma, former minister was born in Agra and was elected from Reading. Rishi Sunak, 37, too has been reelected from rural Richmond in Yorkshire. He is son-in law of Mr. N. R. Narayanamurthy, co-founder of Infosys. Shailesh Vara won his North West Cambridgeshire seat. Suella Fernandes, 37 won the Fareham seat. Keith Vaz, the longest serving MP of India origin held on to his Leicester East seat. His sister Valerie Vaz (62) retained Walsall South. Keith Vaz defeated two candidates of Indian origin, Sujata Barot and Nitesh. Virendra Sharma will be representing Ealing Southall, home of the largest south Asian community outside Asia. Lisa Nandy, a 37 year old Bengali won the Wigan seat in Greater Manchester area. Seema Malhotra, 44 got elected from Faltham-Heston seat, an area popular with Punjabis. Tanmanjeet Singh Dhesi is the first turbaned Sikh to enter the British Parliament. He represents the Slough seat. Preet Kaur Gill has become the first Sikh woman to be a British MP. She won from Birmingham Edbaston.