By Malika B. Mistry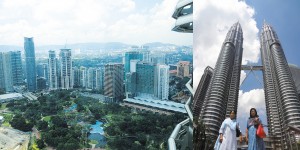 For all those who visit Singapore, it is rather easy to add Malaysia to their itinerary. So was it for me. I decided to have a peek into this Muslim majority yet modern and multicultural nation-state when I visited Singapore last summer.
Malaysia has 14 states (provinces) in all. According to Forbes Online, 2012, Malaysia is the 10th friendliest country in the world. UNWTO 2012 rates it as the 9th most visited country in the world. Kuala Lumpur is supposed to be the 4th best shopping city in the world and second best shopping destination in Asia Pacific (Globe Shopper Index 2012). It is an expensive country for Indians as one Ringitt costs more than Rs. 20. In comparison one Singapore dollar is equal to 2.2 Ringitt.
For Indian visitors, Malaysia offers an element of comfort as it is culturally akin to India with enchanting views of temples and mosques. It is said Hindu kings from India ruled the country before the advent of Islam. One comes across umpteen numbers of Sanskrit words in Malay language although several Arabic words too are now found in the language. Malay was earlier written in Arabic script, but some decades ago they opted to transit to Roman script in order to benefit from technological advantage that the Roman languages had achieved. I am told that Malay could be learnt within three months. Several Indian film stars are quite popular with Malaysians.
Malaysia is green, clean, vibrant and dynamic. Currently, it has a population of 30 million but it aspires to have 70 million people, at which level, the demographers and economists feel that it would be able to make optimum utilization of its resources. It is therefore following a policy of encouraging more children per family. The government provides incentives to families that produce more kids. Malay women have five children. The native Malays, who are mainly Muslims, constitute a little over half of the population. About thirty per cent people are of Chinese origin and Indians""which include Tamils, Christians, Muslims, Sikhs etc""represent ten per cent people.
Kuala Lumpur, with a population of three million, is a happy mélange of cultures and showcases the country at its best. One cannot complete a visit to Kuala Lumpur without visiting the twin Petronas Towers. They rise upto a height 452 metres with 88 stories. The towers have connecting bridges at 41st, 42nd and 86th floor. The overview from the observation desks of these sky bridges is breathtaking.
In one of the cutting edge displays in these observation desks, former prime minister Dr. Mahathir Mohammed is shown declaring that by 2050 Malaysia will become an industrially developed nation. I wish such statements could have emanated from the entire Muslim world. It is indeed distressing to find that the prosperous Arab states are though rich but are far from having even a modicum of social equality and equity which Malaysia has been able to ensure.
 Standing cheek by jowl to Petronas Towers is the Kuala Lumpur Convention Centre (KLCC) amid a 20-acre garden. Families with Muslim women sporting scarves could be seen having fun with kids. In the corner of the garden, stands the beautiful Masjid Asy-Syakirin which also serves to be the mosque for KLCC. It is a fully air-conditioned mosque. Second floor of the two-storey building is reserved for women and they can avail of prayer-clothing for the namaz.     
Just as Singapore, Muslim women can be seen working in offices, malls and bazaars donning Hijab which often is just about a headscarf.
City centre has several buildings with Islamic influenced minaret such as the Old Court Building. The Kuala Lumpur City Hall too has Islamic architecture. In Merdeka Square, we see the tallest flagpole in the world. The Islamic Arts Museum is a must-see item. Sitting amidst lakes and garden, it houses more than 7,000 artifacts which range from jewellery and armour to textile and ceramics. Even a large collection of Islamic manuscripts are preserved, some for the display and other for reference in microfilms. A large scale model of the Masjid ul Haram of Makkah is also kept on display.
Malaysia is richly endowed with scenic sights of Nature at its effulgent best. We took a motor boat from Kuala Selangor and travelled to the border of Kampung Kuantan, a small village at night. The forests on the two banks were aglow with fireflies that seemed to hang from every bush just like Christmas decorations. We also visited the Segawati Hill in the state of Selangor. When the Japanese invaded Malaysia during the Second World War, they executed many Chinese on this hill. The hill top has dargahs of two sufi saints which were locked with no devotes milling around.