By A Staff Writer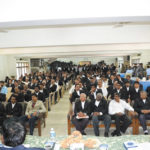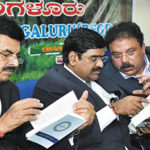 Bengaluru: Nearly 5,000 advocates at the Civil Court Complex in the City received a copy of the Kannada translation of the Holy Quran and other books introducing Islam, published by Salaam Centre on June 23, in an impressive function. The ceremony synchronising with the unveiling of the 5th edition of the Kannada meaning of the Quran was held in Vakil Bhavan. The function was presided by Justice Somashekhar and Mr. Shivaramu, President of the Bengaluru Advocates Association was the chief guest.
The Vakil Bhavan was jampacked with around two-thirds of the 8,000 lawyers who work in the eight-storey complex of the Civil Court located on the Vidhana Veedhi. While launching the 5th edition, Justice Somashekhar called for study of the Holy Quran which he said talked about administering justice among people and building peace and amity in the Society. He said several articles of the Criminal Procedure Code could be comprehended fully if one has the basic understanding of the Quranic teachings.
Salaam Centre Chairman Syed Hamid Mohsin said the Quran seeks to solve the problems of the human society rather than kicking them up. He said it lays equal stress on spiritual and material aspects of life. Mr. Shivaramu thanked the Salaam Centre for choosing the Court Complex for the distribution of the Quran copies. Nearly 4,000 copies of the Kannada translation and around 1,000 copies of the English translation were distributed among the advocates at the counters set up by the Salaam centre at the venue. A dawah kit prepared for the occasion contained the new booklet titled "Stand United Against Terrorism" prepared by the Salaam Centre.
Talking to Islamic Voice , Mohsin said such programmes should be organized in all the courts across the country to disabuse the minds of the people and allow them direct access to the Holy Quran about which some vested interests were spreading hate and disinformation. He said 98% of the country's population believed in peace, amity, communal harmony and camaraderie. Advocate Ubaidur Rahman who played a key role in organizing the function, presented the vote of thanks.