Hussain Rizvi from Patna has his plate full, with initiatives like tree plantations and traffic management. For his relentless zeal and commitment towards social development, he has been nominated for the Queens International Youth Leader Award UK 2017.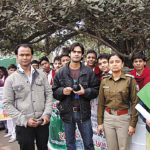 Patna: On most weekdays, Hussain Rizvi works as an area in charge of Kent RO System Limited. The 27-year-old, who grew up in the city, has an MBA degree from L.N. Mishra Institute of Economic Development and Social Change. But that is not why we are talking about Rizvi. It is his commitment and relentless zeal in contributing towards local welfare and social development that make him stand out from most other people of his generation. Like most, he too wishes to have a secure and well-paying job and works hard for it, but from a young age, he has been involved, and well-known as a social worker in the region.
Growing up in a middle class family in the Patthar ki Masjid locality in Patna, Rizvi could see and feel the sufferings of the society. Filled with the urge to give back to the society and contribute to its development, he started to work on social issues in 2004 (when he was just 16) giving free education to Dalit students of his locality and motivating them to work for humanity.
Multi-Faceted Initiatives
Twelve years later, his efforts have won him numerous awards and achievements for various initiatives and programs""tree plantation, environment safety awareness, traffic safety awareness, disaster support relief, voter awareness, community mobilization for the weaker sections especially girls, empowering women, promoting communal harmony, counseling drug addicted youth and pollution control awareness.
"Since childhood, my area of interest was aligned towards the social issues prevailing in the surrounding areas of my locality. During schooling time, I started taking initiatives to make people aware about the importance of education, youth development ,environment and problems related to environment through painting and small skits", Rizvi recounts.
In order to align with his inclination towards social service, he completed Masters in Social Work (MSW) before completing MBA. Talking about his study in MSW, he says, "I completed MSW only to get into some social organisation or government organisation where I can utilise my potential and energy to deliver better services to the society."
Best Volunteer
In 2005, Dainik Jagran invited him for an Awareness Programme on Traffic Safety and awarded him as the best volunteer. Gradually, his work received much more attention from the society and Bihar State Pollution Control Board called him in 2006 at a function of World Environment Day and gave him an appreciation letter for his work on Pollution Control and Environment Safety. He subsequently received similar appreciation from Principal Chief Forest Conservator, Bihar for his hard work on Environment Safety.
He then took up initiatives at a bigger platform and succeeded in getting support from youths and established his own group 'Hussain's Youth Federation' in 2006. His team grew as many youth approached requesting him to include them in his team.
Bravery Award
BELGAU, an NGO that works for Health, Education and Environmental Safety honoured Rizvi in 2009 with Bravery award for saving a girl who was trying to commit suicide by jumping from the Mahatma Gandhi Bridge, Patna.
He received 'District Youth Award' in 2010 for his work on Youth Development and Society Development. In 2012, the City SP Patna gave him certificate for youth motivation, law and order maintenance and traffic management. He was also given 'Communal Harmony Award' in 2013 for co-operating with the administration in maintaining law and order during different festivals. In 2013, Brac University Global Model United Nations invited him to Bangladesh to speak on social issues. In 2015, the Ministry of Youth and Sports Affairs Government of India selected him as a representative and sent him to China for International Youth Exchange Program 2015. Recently, he was invited to attend World Youth to Youth Summit in April, 2016 and another Youth summit in August 2016 Washington DC USA to speak on Control Strategy to Reduce Deviation of Mind of Youth. He has also been nominated for the Queens International Youth Leader Award UK 2017.
(Extracted from twocircles.net)