Saudi Achieves World Record for Largest Kufic Calligraphy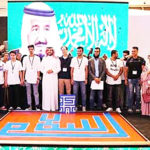 Jeddah: The Saudi Arabian Society for Culture and Arts (SASCA) has entered the Guinness Book of World Records for constructing the largest Arabic Kufic piece, with 8,083 pieces of lego. Kufic is the oldest calligraphic form of the various Arabic scripts. It was prevalent in manuscripts from the 7th to 10th centuries. Until about the 11th century it was the main script used to copy the Qur'an.
Planning and training for the construction took 23 days, said Maha Al-Talha, assistant project manager and head of the visual photography department in SASCA's Riyadh branch. SASCA, based in Riyadh, has 16 branches, with groups in Jeddah, Madinah and Al-Baha. SASCA has been active for about 40 years, fostering different artistic fields, such as literature and visual arts.