Islamic art can help people understand Islam, says Kuwaiti calligrapher Fareed Al-Ali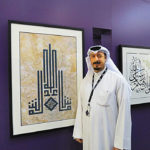 Islamic art, especially calligraphy, can play a key role in inviting people to understand Islam and clearing misconceptions about it, feels Fareed A. Al-Ali, the head of Kuwait Islamic Arts Centre.  The president of the Kuwait Islamic Arts Centre, who was recently on a visit to India, believes that art exhibitions and workshops are key to removing misconceptions. "The beauty of words can make the difference. When they see beautiful words of Quranic ayats (verses), they want to know the meaning and this makes them go further and understand Quran," said Fareed, who has demonstrated his calligraphy skills at the Jaipur Art Summit for the last two years. The Kuwait Islamic Arts Centre, under the Ministry of Awqaf and Islamic Affairs, has been working for more than 11 years to promote Islamic arts like calligraphy and illumination. It organises workshops and exhibitions and conducts competitions in schools. Fareed pointed out that the Centre , apart from promoting Arabic calligraphy around the world, was also helping remove the misconceptions about Islam. "Everybody thinks Islam is terror and Islam is a problem"¦ but through art we tell them it is not. We say Islam is peace." "People in Europe, America and Japan respect Islamic art. We go to their countries and show this is Islam."
Fareed is happy that many young people in Kuwait are taking to calligraphy. "There is huge demand. Many students are on waiting list. Several Kuwaitians take Ijaza (certificate) from renowned calligraphers. More women than men are learning calligraphy," he said. Fareed is happy over the efforts being made in India to revive Arabic calligraphy. In December last year, he inaugurated the Arabic Calligraphy Centre in Hyderabad. This is the second centre opened by Muqtar Ahmed, who teaches calligraphy at the Institute of Indo-Islamic Art and Culture in Bengaluru.