The book captures the voyage of founder of 'Gits' instant mixes, Akbarbhai Tejani.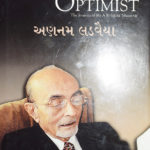 The Eternal Optimist
The Journey of A. K. Tejani 'Musavvir'
Gits and Unity Foundation, Pune
Price: Rs. 250
Pages 300
Reviewed by Maqbool Ahmed Siraj
Akbarbhai K. Tejani is founder of the famous 'Gits' brand of instant mixes. Of the nearly 400 different products that flaunt this brand on the grocery store shelves today, gulab jamun mix topped them all. He is now nearing his 90th birthday and the business has passed into the hands of his (and his partner Harji Zaver Gilani's, who died in 1980) third generation descendants. The two gentlemen hailed from families of Khoja Muslims. Khojas are mainly Gujaratis, but have now fanned out to all big cities in India and have presence in at least 20 countries of Asia, Europe and Africa.
Honest and Hardworking
Akbarbhai K. Tejani (the author refers to him as 'AKT' all through the book without expanding the median initial 'K' even once) was born in 1929 in the small village of Jafarabad of Saurashtra. He began his career as a milk delivery boy till he finished his matriculation in 1945. Circumstances did not allow further studies. He then landed a job as a cashier in a bank in Bombay (now Mumbai) and won the confidence of one and all through his honest dealing with cash. Prompted by his brother, he did join a Diploma course which he could not complete. Looking at his dedication and efficiency, he was offered a job by the owner of the Rallis India Ltd at a salary of Rs. 150, a fabulous sum in those days. It was a firm dealing with art silk and was diversifying into other streams of business. The firm was closed in 1949 and the boss shifted to the United Kingdom where he offered AKT a job which he declined. He later got married to the daughter of a businessman who was in the same trade and owned property both in Bandra and Lonavala, a hill station near Pune.
'Chipswala'
Some years during 1950s were spent in Ooty and Bangalore where he experimented with a variety of businesses. In Bangalore he came to be known as 'Chipswala' as he had set up a small unit for production of potato wafers. He would take out a bicycle and sell chips in Cubbon Park and supply it to shops on Brigade Road. Among his customers were Nobel Laureate Sir C. V. Raman, Maharani of Travancore (she might have had a home in Bangalore then) and the legendary Gen. Thimmayya. The stay in Bangalore offered him the opportunity of getting his son and three daughters education in some of the best schools in the city.
Parpia Connection
Passing away of his mother pulled him back to Gujarat where he initially worked on commission for 'Vyapar', a Gujarati business publication. Vyapar's then editor H. Z. Gilani later became his partner in setting up the business of instant mixes. The tenure in Bangalore came as a big boon as he came in contact with Mr. Hussain B. Parpia, a food scientist in the Central Food Technology Research Institute (CFTRI). Though Mr. Parpia too hailed from the Khoja community, he was a known rationalist (willed that his body be gifted to the Mysore Medical College for advancing research into human anatomy). He became a valuable source for knowhow in food processing through dehydration.
First Plant
The first plant of 'Gits' (Guaranteed International Tastes) became operational in 1963 in Hadapsar in Pune with an initial capital of Rs. 30,000, pooled from relatives and friends. He began with four instant mixes i.e., chicken, tomato, mixed vegetable and mutton. Items were packed in aluminum foil pouches. The turnover reached Rs. 80,000 in 1963-64. Shortly thereafter, there were two competitors in the market, Orkay and Bambino. He was chosen vice president of the Processed Foods and Export Promotion Council, New Delhi and remained on the post for nine years in a row. His son M. A. Tejani (Now joint managing directors of Gits) and son-in law late G. H. Lakhamsey joined him.
Diversifying
Papads, pickles and dairy products joined the assembly line products later. As trade environment became conductive in India, it began to cater to diversified tastes with mixes for Punjabi chhole, vegetable biryani mix, gajar halwa and paneer tikka masala. But Gulab jamun mix retained the supreme position in the market. Some of them succeeded in making a dent into the market, some failed the test of market or the taste of palletes. As the descendants, many of them educated abroad, joined the business, the products conquered several markets in South East Asia, Europe and the Middle East. From 'Ready to eat' to 'heat and eat', there was no looking back. The book chronicles the entire voyage.
Into Parliamentary Canteen
Gits' Idly mix was flown to Seattle during the Emergency when Jayaprakash Narayan was admitted in a hospital there for renal failure. Emergency detainee Ashok Mehta stealthily requisitioned Gits food packs inside the Rohtak Jail during the infamous Emergency. Later these gentlemen enabled Gits' entry into the Parliamentary canteen.
Come the era of online business in the new millennium, Amazon.com recognized Gits 'Heat and Eat' food as the best in quality and hence awarded them five-star rating.
Truth, honesty, sincerity and dedication were the guiding principles for AKT. Several conspiracies against his business failed. As the third generation took over the business, AKT concentrated on philanthropy and study of religion and philosophy. He still lives in Pune, guiding the youngsters.
Half of the book carries the same content in Gujarati language together with another 30 pages devoted to photographs, both from the family album and business. The book is a mish-mash of several elements put together. A host of close acquaintances too have contributed pieces highlighting their opinion about the enterprising man. Proofing leaves much to be desired. But as a whole, the book captures the multidimensional persona of Akbarbhai Tejani in all its detail.