The precast infrastructure manufacturing unit at Krishnagiri set up by KEF Infra has set a growth target of $ 1 billion for itself.
   
By Maqbool Ahmed Siraj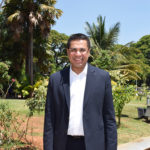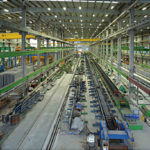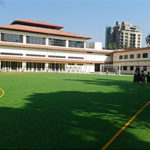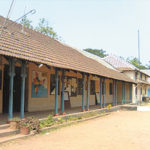 "There is limitless potential to fast forward India's growth if the infrastructure of the Government schools could be improved and teachers were better trained, focused and motivated for the cause". These words came from Mr. Faizal E. Kottikollon, Chairman, KEF Infra and KEF Holdings, a company incorporated in Singapore and headquartered at Dubai and with operations in India, the UAE and Singapore while addressing the Sustainable Building RandD Summit in Bengaluru early last month.  
Faizal told the gathering of scientists and environmentalists: "India has 12 lakh Government schools. Fifty eight per cent children in India leave schools before they complete 10 years of education. Reason: Crumbling infrastructure, demotivating ambience and insipid teaching. Only a holistic turnaround can make these schools produce citizens capable of contributing to the nation's development."
Social Entrepreneur
Faizal, who would like to be described as a social entrepreneur, heads KEF Holdings, which has launched multiple ventures in sectors like education, healthcare, infrastructure and livelihood. The Faizal and Shabana Foundation which he set up in 2008 with the objective of 'Giving to Create" is working with the Kerala Government to improve infrastructure and academic standards in 1,000 Government schools in the state. There are feelers from governments in Karnataka and Tamil Nadu too to chip in under PPP arrangement.
 
Nadakkavu School
The Faizal and Shabana Foundation have turned around the Government Vocational Girls High School in Nadakkavu in Calicut by reconstructing its building. The Foundation invested Rs. 16 crore to reconstruct the main edifice, landscaping of the campus into a green and serene premises at the old site measuring 1.5 lakh sq. ft., adding astro-turf playground, multimedia lab, dining hall, well-stocked library, modern kitchen and washrooms. The work was taken up as part of PRISM (Promoting Regional School to International Standards through Multiple Interventions), an initiative by the local MLA, Pradeep Kumar. The teachers were trained at the IIM-Calicut. The school is one among the oldest Government schools in Kerala, having 2,600 girls on its rolls as of now. Speaking at the 2018 Sustainable Buildings RandD Summit organized by TERI on March 8 in Bengaluru, Faizal said the improvement in the school led to the transformation of the entire neighbourhood. The Foundation took up the reconstruction of the school on February 23, 2013 and handed over the entirely reconstructed, renovated campus to the Government on May 29 (after 95 days). The improved standards have taken the school to be rated as one among the top ten best schools in the country.
 
Prefab Infrastructure
KEF has set up its precast manufacturing facility at the KEF Infra One Industrial Park at Krishnagiri in Tamil Nadu (90-minute drive east of Bengaluru). It is a 42-acre offsite manufacturing facility to produce precast concrete structures, modular rooms, wood joinery and glazing and stone processing solutions. Entire homes and commercial buildings can be manufactured there and transported and assembled onsite. It has so far supplied the precast panels for 349 Indira Canteens in Karnataka. It inaugurated its 205-bed tertiary care Meitra Hospital in Calicut in August 2017 using off-site construction technology in 21 months. 
Faizal, while talking to this scribe on the sidelines of the conclave, said the company will invest about Rs. 650 crore each in three more offsite manufacturing sites in Mumbai, Delhi and Hyderabad, and Rs. 100 crore in a precast concrete facility in Lucknow. 
The company is also building 31 Tata Cancer Hospitals around the country with an outlay of Rs. 4,000 crore.
 
Prefab Mall
In 2017, KEF Infra executed work on a four lakh sq. ft. Meitra Hospital which proposes to have 500-bed facility. Faizal heads the governing board of the hospital. Besides, it completed works like 1.7 million sq. ft. commercial building for the Embassy Group and 500,000 sq. ft Phase II building for IT major Infosys in Bengaluru. It is also handling construction of two million sq. ft. mall for Lulu group in Lucknow and one million sq. ft. college hospital for KMCH in Coimbatore. The mall at Lucknow will be the country's first prefabricated mall.   KEF Infra has set for itself a growth target of reaching revenues on $ 1 billion by 2020.