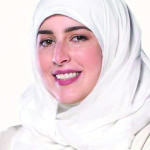 Jeddah: A Saudi woman has been elected into the United Nations Habitat Youth Advisory Board for a two-year term as an adviser on the Future Saudi Cities Program, Arab News reported.
According to Dar Al-Hekma University, Lama Al-Sharif is the only representative from the Gulf in the board, and she is one of 16 young people voted onto the advisory board from the 600 who applied worldwide.
The president of Dar Al-Hekma University praised Al-Sharif, saying that the institution was proud to have helped her develop skills needed for the "real world". Al-Sharif graduated with a bachelor's degree in Management Information Systems from Dar Al-Hekma University and earned a diploma in international relations and diplomacy from the American University of Tufts. She has recently completed her Masters in International Relations from Dar Al-Hekma University.
Al-Sharif is the founder and manager of Shababuna Consultancy Firm and Awareness Program and Forum, which focuses on youth empowerment, and has been involved in volunteer projects since she was 11.