The Discover Yourself Workshop was held in Tonse, Udupi and in Margao, in October 2014. It was organised by the Board of Islamic Studies, Goa.
Some of the participants share their experiences after the Workshop.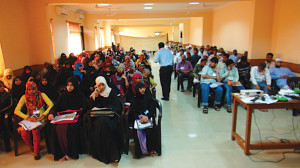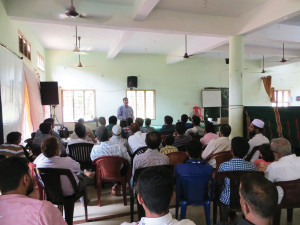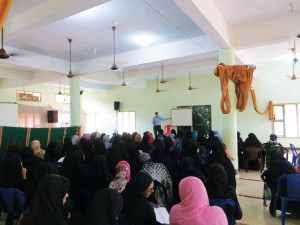 * It helped me to change myself and got all the answers to my questions.
* I am able to distinguish 'Huq' and 'Batil' in me and in life.
* After the workshop, many changes has come in my life. I have stopped criticizing others and learning to control my anger.
* I used to judge and blame others, but now I understood the way of living in the path of Allah and Sunnah.
* It helped me to understand and how to live in reality.
* Earlier, I was living in my own world, now I am able to differentiate between 'ME' and 'Myself'.
* It was a great experience and was totally beneficial to understand Islam and its way of life.
* This workshop is a gift for those who really want to change themselves as Allah wishes.
* The workshop practically removed negativity from within me and brought in positivity.
* The workshop is a sadaqa-e-jariyah for you and Allah's rehmat (blessings) for us.
* It has helped me to see my blind spots and made me realise how wrongly I perceived my life and my actions.
* It transforms one's life and removes all the dirt and unwanted things from the mind and heart and it helps us to connect to Allah.
* You were amazing! Just like soap washes away dirt, you washed away the dirt of minds.
* It helped me to introspect about myself, to take control of my ego and lead a peaceful life.
* I am fortunate- Alhamdulillah, Allah granted me with this beautiful opportunity.
* The space provided would not be sufficient for me to write about the numerous benefits I got from this workshop. But in short, it has changed the way I look at things and the way I respond to it.
* Truly, a life changing experience, I feel sorry for my mom, dad and sister who could not attend this workshop.
* It helped me to overcome anger and see the world from a new context.
* The workshop helped me to stop being angry, selfish and being an egoist person.
* The workshop changes you to be a real human being.
* I have discovered myself Alhamdulillah! This workshop is a key for success in my life.
* The workshop helped me to differentiate between Huq and Batil.
* The workshop was excellent, interesting, enjoyable and very funny.
* I was short tempered before, but now Alhamdulillah, I have started loving my children and family.
* I experienced the reality of life.
* It was worth attending, I felt peace within myself.
AMIRA: Life was full of confusion, panics, too many opinions and questions. I used to do all outward ibadah, preach Islam to others, but had never imagined the inner realities of life. All the techniques taught are practical and need to be practised. I would have been in my own world if I would not have attended this workshop.
SABINA: Before the workshop, my life was full of assumptions, opinions, falsehood, tensions, confusions and restlessness. Alhamdulillah, I have found lot of difference in me and my parents and relatives are very happy to see the change in me. I have experienced the fact that if we change, the world around us too changes. My life changed after coming here. I am able to sleep now peacefully after many months. I appreciate your spirit to conduct the workshops to make Muslims realize humanity and Islam as a way of life.
AFROZ: I had a problem with my mother-in-law for the last three years. She had insulted me in front of the whole family. From that day I was not at peace. Even my relationship with my husband got bad. I was always angry, blaming others. I thought I was right. My husband and my parents always tried to make me calm, gave good advice and told me to forget everything. But I could not do it. At last my husband also gave up. And my relation was becoming worst day by day. I was not at peace at all. But after attending the second day of the workshop, everything changed, my life and my thoughts changed. I went to my husband and cried a lot for what I did and I forgave all of them. I felt relaxed and calm. I have thrown all the baggage I was carrying. My husband was very happy and said you are a courageous lady. It was the best gift he gave me to attend this workshop, keeping the kids with him and taking care of them. Alhamdulillah and Jazakallah khair.
FARIDA: I was a very negative and insecure person. Always worried about my future and regretting about my past actions. I use to always ask Allah and myself ""'Aisa kyon hota hai' why me?. Now I learnt to not question, I realised that the past is gone and I have to live in the present, the present is a gift which I have to enjoy. I am responsible for my actions and my happiness.