Forty two couples were united in wedlock in a solemn ceremony sans musical band and dances.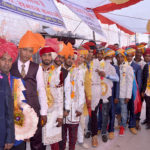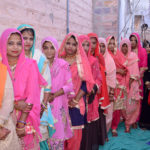 Jodhpur: Forty two couples of Abbasiya community here were united in a wedlock in a mass marriage in an austere ceremony here on January 14. All the members of the 15,000 strong community in the city attended the Nikah ceremony and dinner at the Madrassa Roshan Islamia Hall and Abbasiya Samudaya Bhavan. The ceremony was held without the attendant rituals, music and dance and fanfare which entailed huge expenses earlier. The Rajasthan Government extended a monetary assistance of Rs. 15,000 to each of the couple. Chief Minister of Rajasthan Ms. Vadundhara Raje Scindia sent a letter of appreciation for conducting marriages accompanied with solemn ceremony.
Abbasiya Qaum (community) is a distinct social component of Rajasthan's Muslim community with around two lakh individuals. However, Jodhpur city has around 15,000 members. The people belonging to the community have been traditionally engaged in stone-carving, transportation of heavy granite and marble stones on camel backs from mines to the construction sites, taxi-driving and selling vegetables. However, winds of change have brought about educational awareness within the community and nearly every child is now enrolled in schools. Currently, the community within Jodhpur has four doctors, several teachers and a few government servants. Occupational mobility is being witnessed in other sectors too as the members of the community have taken up taxi-driving and other occupations. The community had recently undertaken to avoid unnecessary rituals and to conduct the marriages in an austere way. Consequently, no firecrackers were burst, nor any musical bands were engaged in the mass marriage. The Shekhawati-Goravati Jumla Punch, the community association of the Abbasis, had recently taken an unanimous decision to curtail unnecessary expenses and to hold the Nikah in a solemn manner in keeping with the Islamic etiquette. The ceremony was attended by Union Minister of State for Agriculture, Mr. Gajendra Singh Shekhawat who presented the Nikah deeds to the marrying couples.
Mr. Feroze Khan Abbasi, Secretary of the Qaum e Abbasiyan presided over the ceremony. Among others who graced the ceremony were BJP member Anil Agrawal, Rajasthan Urdu Academy Chairman Md. Ameer Pathan, former Jodhpur Development Authority Chairman Rajendra Singh Solanki, former Mayor Abdul Ghani Foujdar, State Minority Commission Chairman Saleem Khan, Scheduled Caste Commission Dr. Dhanpat Gurjar, former President of the Marwar Muslim Educational and Welfare Society, Shabbir Ahmed Khilji.